8 Tips to Get Your Multi Location Business Dominating the Local Results

8 Tips to Get Your Multi Location Business Dominating the Local Results
For a long time, it was easy for multi location businesses to upload their location data to Google and experience successful local pack rankings without doing much else...oh those were the good old days ;) However, that changed in the summer of 2014 when the Pigeon Update made organic search optimization important for good local rankings. Then the most recent (August 2015) shift of local packs from the typical 7 spots to only 3 positions now makes strong organic optimization absolutely critical for local search success.
Thanks to this latest shift, multi location businesses that haven't invested in optimizing their online directory of locations are in a downward spiral that is certain to continue. If you're on this list then let me tell you, it's past time to ensure that your website has a highly crawlable location directory and individual location pages with relatively good Page Authority. Here's our 8 step checklist designed to help you get your multi location website's on-page local optimization in place.
1. Findability
Can site visitors easily find your store directory regardless of which page they may be on? Unfortunately, for a lot of multi location sites, the answer is no. Take a look at the homepage of Sears, for example. (This is just the part that appears "above the fold".) See how long it takes you to find location details.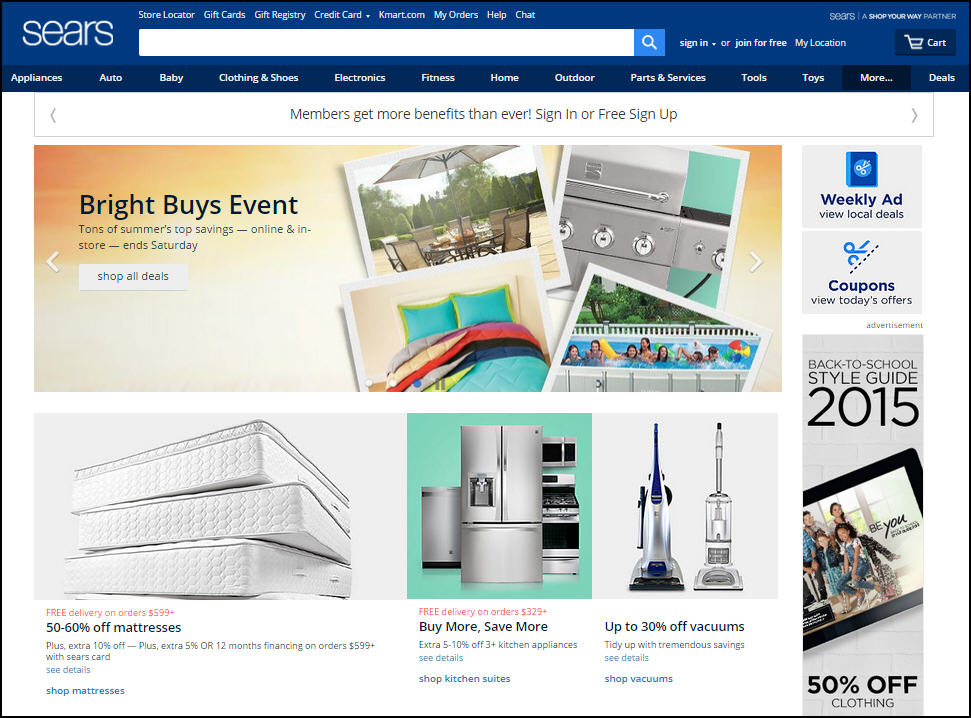 When a brand location ranks for a generic search query, like refrigerators for example, searchers are normally sent to the specific page of a location near them. But when they search for the brand, like Sears, Google will often deliver them directly to the home page of the website. Then, if they want to shop in person rather than online, they'll need to find a way to get to the information they are really looking for. Location directories should absolutely have a prominent position in either the site wide header or sidebar rather than being relegated to a link in tiny font, like the one at Sears.com.
2. URLs
Pages for ...