The 2022 SEO Fundamentals Course
Supported Self Study Course for Professional Search Specialists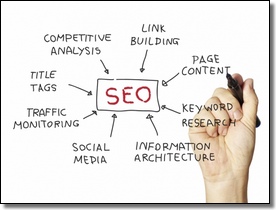 The Essential Basics of Search Engine Optimization.
Updated and Recorded Live in February 2022. Attended by professional Search Specialists as "students," this supported self-study course is divided into FOUR sessions and spans a total of just over 7 hours. The Open Book Final Exam is 100 questions, multiple choice and true false.
Upon completing the course, and passing the exam, you'll receive a virtual certificate of completion which can be displayed on your business webpage to show clients you have been professionally trained and your knowledge of SEO Fundamentals is recognized and certified by an established professional training organization.
Course Format:
Three Recorded Classroom Sessions that are followed by Q&A: The complete session videos, MP3 audios, and PDF slides are included.

One Full Session Q&A: In this session Professional Search Specialist "students" peppered our two SEO experts with questions. You are the fly-on-the-wall hearing what the attendees (all who make their living doing SEO) are asking our experts who, together, bring forth their combined 47 years of professional SEO experience to answer their myriad questions.
Run Times – Total 7hrs 5min

Session #1:
102 Minutes


(1 hour, 42 minutes)

Session #2:
128 Minutes


(2 hours, 08 minutes)

Session #3:
95 Minutes


(1 hour, 34 minutes)

Session#4:
100 Minutes Q&A


(1 hour, 40 minutes)
Instructors:
Two of the Best SEO Trainers on the Planet!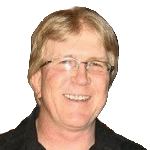 John Heard has been doing SEO since 1995 — practically a lifetime! ...27 years! Part of his job as head-of-research for SEN during all of that time has been to study & report on every single change that's happened every single month since 1997!
Plus, he has worked with countless clients, generating millions of dollars in sales, by optimizing websites to rank at the top of more than 20 different search engines and directories as they've come and gone during the past three decades.
He's easily one of the most knowledgeable SEO trainers in the world! And even after all this time, John continues to show an amazing quality of patience and generosity when sharing his vast reservoir of knowledge. And, because he has seen everything he is the ultimate wizard of All Things SEO.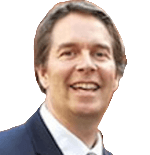 Keith Saye is your host. An expert SEO with 22 years experience, Keith is head of SEN's International arm and constantly involved with managing clients and closing deals. He makes sure everything runs smoothly, pushes for more details on the topics that matter, and adds his own experiences gained from working in the real world of SEO and knowing how it applies to various businesses both domestic and international.
Training Course Details
Session One covers the following topics and explains how each of them are critical to the design and/or function of high ranking webpages.

Personalized Search Results
Universal Search Results
Pure Organic Results
Local Search Results
News & Real Time Search Results
Google Shopping Search Results
Google's Knowledge Graph
Featured Snippets & Knowledge Boxes
Instant Answers
Featured Snippet - Quick Facts
Query Deserves Freshness - QDF
Query Deserves Diversity - QDD
Product & Brand Special Results
Mobile Results: AMP (accelerated mobile pages project)
Mobile Search Results
Voice Search Results

PLUS, you'll be learning the history of Keyword Research and see how it continues to evolve as technology plays an increasingly vital role in the search results.

In this session you'll learn about 5 Free Keyword Research Tools that you should be using and the one Paid Keyword Research Tool that's recommended.

The session wraps by showing you how to properly set up your (so VERY important) Google Search Console (GSC) which gives you access to keyword data, click-through-rates, position-ranking, and critically important inbound link information.

You'll also learn how to access essential GSC reports. These can include critical information like ranking penalties or problematic issues like malware on your site or alert you to violations of Google's guidelines. Uncorrected, these can cause a site to be penalized or de-indexed.
Session Two covers these topics and explains their role in high ranking pages with optimized click through and conversions rates.

The most powerful On Page Ranking Factor — The <title> Tag
The Meta Description Tag and how it affects click through rates
Search Result Snippets and how they affect click through rates
The effect that Domain Name keywords have on rankings
How to choose a Top Level Domain (TLD) that's best and the effect they have on search rankings
How to best optimize your Headline Tags
Content Volume – How many words to use on a page; when it matters, when it doesn't, and how your target audience should dictate your action
The vital importance of having Unique Content and what qualifies as unique
How and when Spelling, Grammar and Readability can determine a site's rankability
On Page Keyword Tips – striking the right balance between too much and too little
Link Anchor Text and the degree to which it's considered a ranking factor
Everything you NEED to know about Y.M.Y.L (your money, your life) pages for which Google has very special requirements
E.A.T. – Expertise, Authoritativeness, Trustworthiness; what it is, when it's important and when it's MOST important. Plus 13 tips to boost your E.A.T.
The importance of Fast Load Times along with tips for speeding up the time it takes for your pages to load
The critical importance of your Core Web Vitals and everything you need to know about the new Page Experience metrics
The latest need-to-know details regarding Mobile Friendly Requirements because pages with errors will NOT rank well for mobile search
Image quick-tips and the importance of file path, file names, img alt, size optimization, and uniqueness
The importance of optimizing directory and file names and getting your site structure right the first time!
All about Update Frequency because Google loves fresh content
On Page Geo Location Signals - How best to tell Google where you are
The optimum number of links to have on your pages
How to build a Spider Friendly Architecture the first time and why that's important.
The differences between Dynamic vs. Static URLs and the advantages / disadvantages of each
What you need to know about Canonical URLs and why this topic is so important.
The Canonical URL Tag explained; when and where to use it
XML Sitemaps – why and when you need to use one and when you don't
Robots.txt – all of the critical information you need, and what to avoid when using this important tool
Redirects — how to use, and when to use, the various redirects to help Google properly index your site
When to use, and not to use, browser redirects
The importance of avoiding Duplicate Content and what actually qualifies as "duplicate"
4 handy ways to check for Duplicate Content
9 elements that comprise Page Quality, all of which impact your rankability
The 4 factors that determine your overall Page Quality

Session two also covers how best to manage these difficult to control but extremely important External Ranking Factors...

Links from other websites - Link Popularity
Anchor text in links from other websites
# of Linking Root Domains - Link Diversity
Domain Trust & Authority
Author/Publisher
Geo Targeting Factors
Traffic Signals (Toolbars/Browsers/Tools)
Quality Signals (CTR / Bounce Rate / Time on site, etc.)
Citations/Reviews
Social Signals

Session two finishes with discussing the Negative Ranking Factors that you need to avoid, such as...

Hidden text and/or links.
Keyword Stuffing.
Improper Use of Structured Data.
Buying links from link networks/brokers
Getting links from bad sites.
Too many targeted keyword inbound links.
Low quality content - thin content.
Linking to low quality/spam sites.
Redirecting the user with the intent to mislead.
Server down - connection problems with website.
Bad user experience - mobile popups / a ton of ads / etc.
Sites with poor usability.
Slow pages.

And you'll also learn to be on the watch for Malware, Site Infections & Link Injection – how to recognize, where to find your alerts, and what to do to stay one step ahead of the hackers.
Session Three covers site security, legal obligations, web accessibility compliance & requirements. Details include:

Why a Secure Server is necessary
How to avoid the dreaded Browser Security Warnings messing with your conversions
How to switch your site to HTTPS
Legal Obligations that must be followed and which ones apply to which geo-locations
Web Accessibility — the good news & the bad news
The upsides to making your site handicap accessible
Web Accessibility Basics
Web Accessible Titles – Bad examples & Good examples
5 Rules to follow for Web Accessible Images
Rules for Web Accessible Heading Tags
The ideal Web Accessible Contrast Ratios
Web Accessible Font Sizes
Web Accessible keyboard navigation rules
Keyboard access with visual focus
Video / Multimedia Accessibility – captions, transcripts
Web Accessibility for non-html (.doc, .txt, .pdf, etc.)
Accessibility Statements
Links to resources for Accessibility requirements, tools, and statements
Session Four is 100% Q&A where experienced, professional Search Specialists run their real-world, practical question past our two top experts to hear the best approach for solving the SEO challenges that working in the field actually present.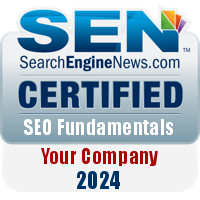 Certificate of Completion
Completion the course, pass the Exam and you'll be rewarded with this Official Certification personalized with your company name which you can display on your website and use to show your clients that you've been professionally trained and SEO Certified by a respected, professional training organization.
The Tuition



$497 Tuition

- $100

SEN Member Discount

$397 Your Cost
Tuition: $497 is what non-members pay. However, as an SEN Member, you save $100 and pay only ...
$397
Which is probably FAR less than what you'll be charging your next client for providing SEO services based on what you'll be learning in this course!
Click the button below to get started right NOW...