13 Guaranteed Ways to Lower Shopping Cart Abandonment

13 Guaranteed Ways to Lower Shopping Cart Abandonment
W

e tend to have a very high rate of shopping cart abandonment. We've tried different providers, made sure we don't surprise customers with hidden fees, extra shipping costs, or other negatives during the check-out process, and we've eliminated the need to register to check-out. Nevertheless, we still have a 70%+ abandonment rate. What tips can we implement that we aren't already doing?
Answer: You are right to be concerned and you aren't alone! In fact, shopping cart abandonment rates have exploded during the first quarter of 2013. A recent April survey of 200 of the leading global brands showed that the average shopping cart, basket, and booking abandonment rate has risen to 73.6%. This is up from a Q4 2012 holiday average of 70.7%.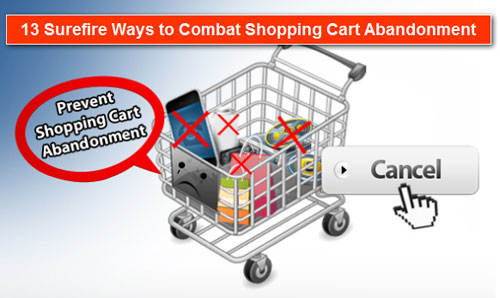 What can you do to convert the browsers to buyers? Glad you asked! Here are 13 Guaranteed Ways to Lower Shopping Cart Abandonment taken from our own experiences and implemented on SEN subscriber sites.
Highlight Product Images: The inclusion of visual images in a cart not only enhances the overall design of the page but provides reassurance the shopper has chosen the correct item. Can your customers see their chosen products in their carts at all times? Can they easily correct mistakes if the product image doesn't match what they were purchasing?
Show Checkout Progress: Checkout should not seem like an endless ordeal. Make sure you provide a simple progress bar to show potential customers their position in the checkout process. Research shows this considerably decreases abandonment rates.
Make your Cart Visible: Nobody likes backtracking to see what's in their cart. Make your cart visible or provide a pop-out quick view so customers can quickly and effortlessly review what they've added to their cart and what they have not.
Streamline Checkout: Do you require all new customers to register with your Web s...