8 Website Rank Boosting Tips that Take 15 min or Less

Quick Projects that can make a big difference...
8 Website Rank Boosting Tips that Take 15 min or Less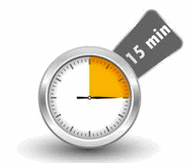 If there is one thing you can never have enough of it's time. This counts double if you're in charge of keeping a website running smoothly and ranking at the top of the search results. With that in mind, I spoke with our in-house experts and asked them what their direct recommendation was for something that you could do to improve you site's rankings. The catch was that it couldn't take more than 15 minutes to do it! I narrowed it down to these 8 easy and quick to implement optimization tips.
1. Improve Your Google Bounce Rate Analytics Accuracy to Identify Thin Content
This tip is straight from Google's Analytics Team and will give you a much clearer idea of what your true bounce rate is. This is an important metric to track, because high bounce rates along with low time on page are used by Google as indicators of low quality content, which can trigger both bad search engine rankings as well as a dreaded Panda penalty.
Now, before we get into how to track this properly, let's clarify things a bit. A bounce is recorded when a visitor comes to your page and does nothing on the page (like click a link), which causes Google Analytics to record just the single page view. There are a couple of different reasons why this happens that you need to co...