A Pro's Guide to Turning Your Website Leads into Paying Customers

A Pro's Guide to Turning Your Website Leads into Paying Customers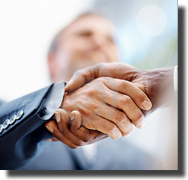 As an SEO you have clear and definite goals when working on any new website. Your initial focus is to get the site to rank well organically by leveraging on-page optimization, fresh content and link building campaigns. As your hard work pays off, your rankings climb along with the number of website visitors. Now, your final task (and sometimes the hardest) is to work on your landing page conversions. You want to get as many of those visitors as possible to make a purchase or reach out to you for services.
Months later, when you've got your landing page converting at an impressive number and solid traffic numbers rolling in, you get to shift this project to the next phase, which is full of content creation and monthly maintenance. You can even take a minute to congratulate yourself on a job well done before moving onto the next new website.
Now, if you happen to be the business owner, or the person assigned with handling the customer after the website converts them, then you aren't patting yourself on the back. Instead, you're anxiously staring at the growing number of emails, listening to the phone ring off the hook and thinking... "What am I supposed to I do with all these leads?!" Don't panic - we've got you covered.
It doesn't matter how many visitors you have or leads that are created if you can't finish the job and turn them into paying customers.
My experience…
For the last ten years, I've generated a huge number of leads for customers and often helped manage the leads turning them into paying customers across vastly different sectors. The most common mistake I see and what is a massive frustration for me is when a 'ready to buy' lead goes to waste through poor management. So, I decided to write a how-to guide designed to help not only the businesses that I work with on a daily basis, but perhaps you as well.
Let's start with the Basics: The importance of a contact form
If you think contact (aka response) forms are unnecessary, or old hat, think again. Having a simple contact form on...