Boost Your Personal and Your Site Reputation with Google Knol

How to...
Boost Your Personal and Your Site's Reputation with Google Knol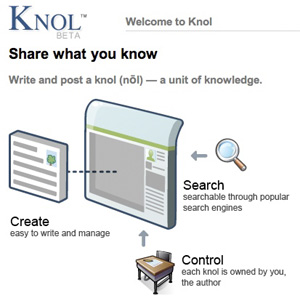 When Google launched Knol in July 2008, many viewed it as a Wikipedia-killer. The new site, backed by the virtually limitless resources of Google, was envisioned to be a more credible, user-generated repository of "knowledge units."
The hope was that these so-called Knols would eventually become the first stop for research conducted by both professional academics as well as average, everyday lay-persons.
The reality though has been much different.
Although Knol recently announced (in mid-January 2009) they passed the 100,000 page mark in user-generated content in less then six months (a level that Wikipedia took two years to reach), the criticism of Knol has been stinging. Most notably, the abundance of spam, stolen and plagiarized web content, or non-nuanced commentary that doesn't allow for a balanced viewpoint. Even old college papers have found their way into becoming Knols.
In fact, Knol is less Wikipedia-like than it is a clone of such user-generated content sites like Squidoo,