How do I add video annotations to my YouTube videos?

How do I add video annotations to my YouTube videos?
I

like YouTube a lot and use it quite a bit. I was curious about the video annotations beta feature they have just introduced. What is it and how can I incorporate it into my YouTube videos?
Answer: YouTube annotations, which just went live in early June, is already becoming extremely popular with its large online community and has added a new interactive twist to the regular YouTube video. As its name implies, the annotations feature allows video editors to "annotate" or add in notes and commentary into existing videos. Users can add in background information, character or video commentary, links to other YouTube videos, channels or search results or include graphics or watermarks.
This annotated commentary is added directly into the video by means of speech bubbles, highlight boxes and notations that users can place anywhere within the video. The process is explained in detail at this YouTube video annotations help link but briefly, here is how the process works:
Sign in to your YouTube account and go to My Videos.
Click and start play on a video of your choosing.
On the right-hand side of the screen under "Video Options" choose Add Video Annotations.
Use the interface to enter your annotations

(speech bubbles, notes, highlights, etc.)

Preview, adjust, preview, adjust.
Then publish.
YouTube has provided some great examples of the creative ways annotations have already been used. These include: a magic trick, a shell game, and a filmed skydiving jump with commentary.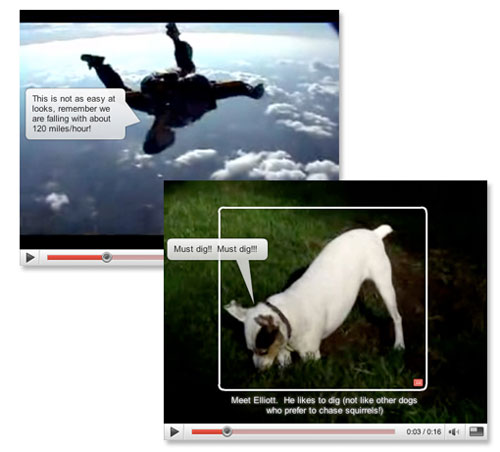 Since this feature is still in BETA there are some limitations. Currently the feature is only available in English and an...