John Mueller Tells Us What He Really Thinks

John Mueller Tells Us What He Really Thinks
Last month, fresh off vacation, Google's John Mueller told us what he really thinks in a series of tweets which created a bit of an ass-kissing buzz among the SEO sycophants with a vested interest in staying in John's good graces.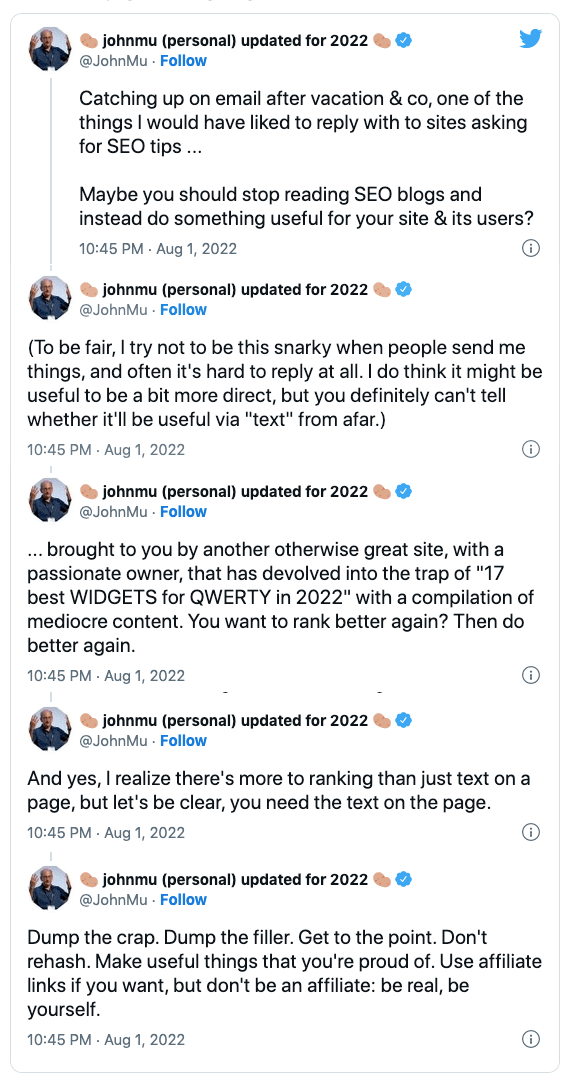 In theory, that's all good advice. But in practice...
John, what world are you living in?
For instance, last month's SEN MasterMind Panelists — John Heard, Carrie Hill, and Keith Saye — chimed in with a brief discussion that went like this...
Carrie: ...Google needs to practice what they preach like stop ranking #1 these recipes websites that are all Ads and filler BS.

Keith: Ahhhh, they're horrible.

John: They take 30 seconds to load and you can't even find the recipe

Keith: I guess it's down to the quality of what is there, what is ranking, that overall zeitgeist in that particular part of the industry. If everybody is doing it then how are they going to rank other sites better? And if people are making a lot of money out of it and still getting away with it, then they're not going to stop.

John: Right.

Carrie: Well, John Mueller can gripe all he wants about the crap and the filler but Google's promoting it. So practice what you preach, John. Do something useful.

John: Yeah, dang it!

Keith: Yeah, that's it. that's it.
There's the opinion of seasoned pros with a combined 60 years of experience doing SEO.
And then, from a few months ago, there are 44 lively and mostly vitriolic comments under a Barry Sc...