How can I keep my YouTube video counts from freezing at 300 views?

How can I keep my YouTube video counts from freezing at 300 views?
M

y YouTube videos keep freezing at 300 and I have no idea why. What can I do to get the view count moving again? Is this a common problem on YouTube? Thanks in advance for any advice.
Answer: We have some good news and some bad news on your current situation.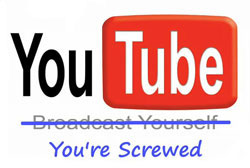 The good news is you're not alone. Literally thousands of YouTube users are seeing their videos frozen at or near the 300 view level.
In fact, even some of us here at SearchEngineNews.com have had our own videos frozen by YouTube over the last couple of months for no apparent reason. At least you are in good company.
Now the bad news: YouTube has absolutely no idea how to fix this and if they do, they aren't sharing. Although they have been alerted to the problem, YouTube has so far provided no avenue or advice to video publishers about how to fix this problem on their own affected videos.
Take a look at this recent YouTube Google help thread on the issue posted in late July. The thread contains literally dozens of different users with videos suffering the same problems, and links to even more threads submitted by other YouTube users suffering the same frozen view issue.
Google's response in the thread states the view count stagnation is tied to the following:
"Occasionally, when a video becomes popular quickly, it takes our computers longer to make sure those views are accurate. This means a video's view count may not update for several hours, sometimes allowing ratings and comments on the same video to climb temporarily higher than the views. So if you see your video views aren't moving, or that your video's comments and ratings are moving faster than your views, don't worry. If you're still getting views, the count should update soon."
The problem is the videos aren't updating. In fact, YouTube videos are sitting for days, weeks, and even months stuck at aroun...