Need to Add Products to your Pinterest Boards? Here's How!

Need to Add Products to your Pinterest Boards? Here's How!
M

y boss has asked me to set-up some Pinterest boards for our products (we sell pottery). Can you tell me how to best upload these products? I'm specifically concerned about how to do the pricing? How do I get those price banners to generate on my products that I'm seeing under the "gifts" section?
Answer: First, we are very glad to hear that your e-commerce company is embracing Pinterest. If you haven't had a chance to read our article from last month on how to BEST use what is now the 3rd largest social site on the Internet, check it out here:
Pinterest is HUGE! Here's 5 Ways to Harness its SEO Power!
Retailers or sites who decide to sell their wares on Pinterest can do so through a category called "Gifts." This category is auto-filled with products by Pinterest users who specify a price within the description field of products they "pin" or upload to the social site.
How do you get your company's products to show up under the "Gifts" category along with a price banner? It's pretty simple. All you need to do is include the "$" or "£" symbol in the description field of the pin and it will be automatically pulled into the gifts category. Here's a visual example: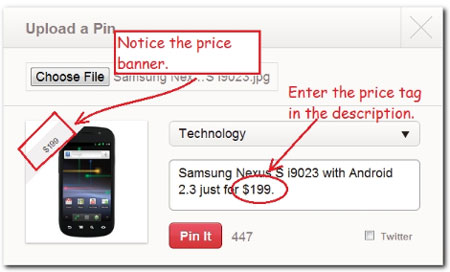 Once you upload your file you can then modify the URL section within each Pin to provide a direct link to where users can find AND purchase your product. Make sure that you monitor closely any products you "pin" to Pinterest and remember to remove the price banner when y...