SEO and the iPhone, do you have these Top 5 SEO Apps?

SEO and the iPhone, do you have these Top 5 SEO Apps?
I

'm an SEO with an iPhone. I have apps for organizing my schedule, calculating my gas mileage and finding new routes for my weekly bike rides. However, I don't have any great SEO apps I can use on the road. Do you have any you can recommend?
Answer: SEO tools for iPhones have been slow to hit the market compared to other categories of apps. However, that doesn't mean there aren't some killer apps available that you can use to analyze various SEO elements and make your job easier.
In fact, several of us here at SearchEngineNews.com have iPhones and use them more than we should. Here are our top five picks for must-have SEO apps as taken from the iPhones here in the office: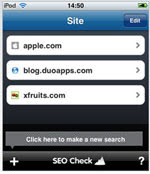 SEO Check - $5.99: Released in March 2009 this app's main function is determining which keywords a site is ranking for. The truly convenient part is that it remembers your previous searches so you can track trends in your site or for specific keywords.
With graphs and charts, you can access your keyword ranking data. You can check an unlimited amount of keywords and an unlimited amount of Web sites. Although some users on iTunes were reporting frequent crashes, these problems seem to have been solved with the release of the latest version.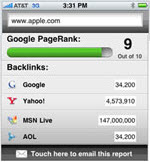 PokeSEO - $0.99: This was one of the first SEO apps on the market. You can us it to check Google Pagerank and backlinks from top...