Top 5 Tools to Manage your Time on Twitter more Effectively

Top 5 Tools to Manage your Time on Twitter more Effectively
I

'm a seoINsites.com premium member and LOVED the recent tutorial you did on Twitter. However, I'm finding managing my Twitter account on a daily basis is taking up A LOT of my time. What tools can you recommend to allow me to get the most out of Twitter while still having time for my regular life offline?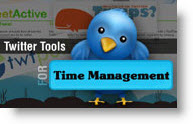 Answer: You aren't alone. Twitter users everywhere are reporting record numbers of micro-blogging exchanges. In fact, according to Twitter tracking site GigaTweet, there are on average 25 million unique tweets sent by Twitter users daily. That's a lot of tired thumbs.
Twitter can and is an obsession that thousands of users everyday work to manage effectively. We can help you keep the proverbial Twitter monkey off your back with some timely tools to manage everything Twitter more effectively.
To that end, here are our top five suggested tools to help you take back your daily life from Twitter:
TweetLater: The best Twitter time management tool hands-down. Create a series of tweets on a specific topic, schedule them for release, then set-up auto-responders to track subscribers. Planning a series of Tweets on a specific topic? Invest as little as ten minutes with this tool and write them all up at once. Then schedule them for delivery over a specified period.
Refollow: The best Twitter relationship management tool. Everyone knows it's the number of people actually following your conversation that matters. Refollow allows you to discover, manage and protect your Twitter social circle. Use it daily to discover new relationships, unfollow users not following you back, and to track y...