Twitter promoted tweets, are they for you?

Twitter promoted tweets, are they for you?
I

've been hearing a lot about the new 'Twitter Promoted Tweets' ad program. Is it open to the full public? If it is, should I consider using it for my clients? Any info you can provide would be appreciated.
Small business owners and marketers have long been looking for a way to effectively advertise on Twitter, so for many the Promoted Tweet program is welcome news. Simply defined, the new Promoted Tweet program allows advertisers to turn published tweets already in their Twitter stream into keyword activated top ranking ads, viewable to the general public. The tweets will show up with a colored callout stating "Promoted by XX" when users search for related terms.
Here's a recent example that ran last month for online social event marketing Web site Eventbrite: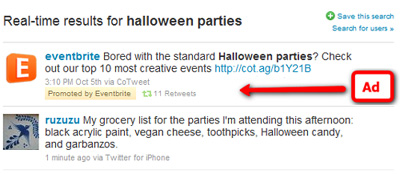 This Promoted Tweet was triggered every time a search on Halloween or Halloween parties was made on Twitter through the search box.
And here's another one that was triggered every time a search for wine or wine events was completed.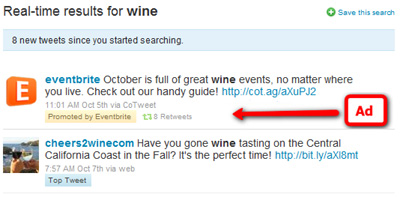 As was the case with both of the above tweets, Promoted Tweets are selected from an advertiser's list of existing tweets. When users enter keywords which appear within the text of Promoted Tweet advertisers' tweets, those specific tweets are returned to the top of the search results page.
If you are an advertiser interested in using the Pr...