Welcome to Facebook Groups! Here's what you need to know.

Welcome to Facebook Groups! Here's what you need to know.
I

'm a big Facebook user and I definitely see myself using their new Groups feature in the future. Can you tell me a little more about it and how they work? I've heard mixed reviews on it so far. What should I be aware of when setting up my own groups or participating in groups setup by others?
In theory, Facebook Groups makes it easier for you to connect with people you want to talk with regularly or with whom you share an interest. Compared to other social networking platforms, Facebook Groups provides a clear advantage.
For example, we could start a Twitter list of our favorite SEO consultants but it wouldn't leave us much room for interaction with actual list members. Members of our list couldn't get to know one another, and communicating with all of them collectively would not be possible.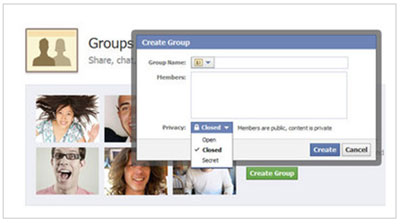 Not so with Facebook Groups. With Facebook Groups you participate in a space where you can share personal information with a smaller subset of people whom you interact with on a more regular basis. The idea is that if your Facebook friends list has become bloated (due to overzealous networking or social gaming) you can create a space for your coworkers, friends or family to share and discuss related topics. It's like an inner circle within your Facebook friends list.
Members of the group can chat, share docs and receive mailing list style notifications from other group members and as group admin you can be completely in control of the privacy settings. Your group'...