Your 7 Step Checklist to Recovering from Penguin!

Your 7 Step Checklist to Recovering from Penguin!
W

e have been trying to recover some client's sites who were impacted by Penguin. However, our link auditing and pruning strategy doesn't appear to be working effectively as we still don't have positive results. Is there a quick checklist we can use when approaching these type of projects so we can increase our success rate?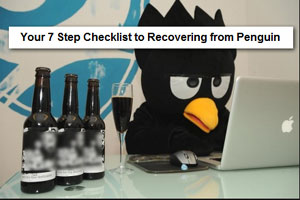 Answer: Good question. First, if you haven't availed yourself of our detailed Penalty Site Audit Consultation package, that's going to be our first suggestion. Because Penguin is predominantly a backlink-related over-optimization algorithmic penalty, it can take months to recover. You have to conduct an exhaustive link audit, identify and remove bad links, and then wait for the algorithm to be re-run against your site.
That being said, when we conduct these backlink audits ourselves we do so via a very specific checklist of steps. Bear in mind that this is by no means a complete review of what we offer in the Penalty Audit packages, but we can pull away the veil a little and talk specifically about some recovery best practices. Here is our 7 Step Checklist to Recovering from Penguin!
1. Check for Penguin First: We've had more than one instance where a site owner was absolutely convinced they suffered from Penguin, but really had other issues that were causing their traffic and ranking drops. A quick way to check for Penguin-related algorithmic hits is with the Panguin Tool from Barracuda Digital. The tool pulls Google analytics information and overlays that with recently reported Google algorithmic changes. It makes the process of identifying if and when you were hit by an update ...