Google Pushes Major new Algorithmic Updates Including a Softer Panda
May was a busy month in the Google algorithm department. Around Monday, May 19th Google released not one but two significant updates over a multi-day span: Payday Loan Algorithm 2.0 and Panda 4.0. Both updates caused noticeable flux in the search results with MozCast reporting a May 19th volatility metric of 97.6 degrees and 80 degrees on May 20th (anything over 60 is considered abnormal).
The Payday Loan 2.0 announcement, first reported by Barry Schwartz was an update of the initial Payday Loan algorithm that ran back in June, 2013. The update targets spammy queries like payday loans, insurance quotes and certain pornographic queries, which Google is told by users, continues to be a systemic problem in search results. The Payday Loan 2.0 roll out was reported to have been international in scope and affected less than 0.2% of total queries.
Panda 4.0, the significantly larger update, has been a long time coming and, as we previously reported, was first alluded to be on the horizon by Matt Cutts at SMX West. This update was reported to affect a healthy 7.5% of queries internationally and is widely believed to be a softer, updated version of the algorithm that seeks to recover sites which may have been unfairly affected by previous versions. Our own penalty guru, Casey Markee, posted the following on Twitter regarding a client who had reported a noticeable jump within 24 hours of the new Panda update.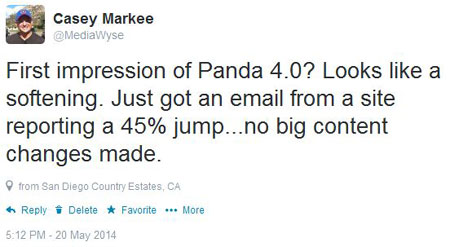 Unfortunately, there were also some very noticeable losers with Panda 4.0 and many of them were well-known brands. Ebay was one of the sites most talked about with regard to Panda 4.0 fallout with