Image Carousel Dominating Local Search
Google's Image Carousel is now live for a large number of US local searches made from a desktop. From the results we've looked at, the number of images on the carousel are between 5-20 and the ranking algorithm matches pin for pin with the current local search results. It's true that this carousel looks very similar to the knowledge graph carousel but with all the additional business data it includes, it's easy enough to tell them apart.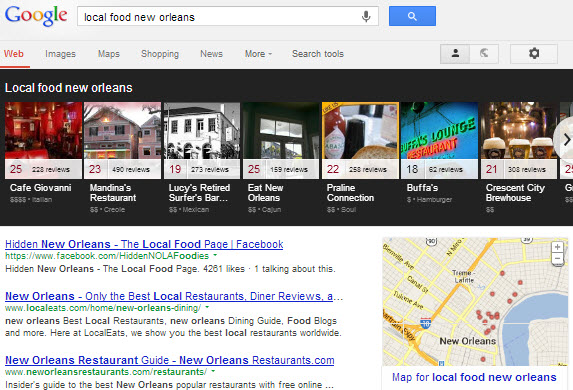 The carousel content appears to be an abbreviated info card on each business. It's manifesting itself as an image representative of the businesses, along with the business name and other information Google deems important for that type of business. For the categories we've seen this includes:
Total review numbers
Price range
Address
Zagat rating
Expect additional categories to be quickly added as we've already been surprised by some of the long tail terms that conjure the carousel. Here's some great tips from Googler Jade W:
How can I get my business to show up in the carousel?
While we can't guarantee inclusion in search results, we can say that the carousel will show results from listings in Google Maps using categories. Just as in regular ranking, Google's algorithms take into account many factors to select the places and results that are most relevant to the user. This algorithm based approach is also used to decide which businesses are in the carousel.
Why is this feature only available for some business verticals?
We're committed to providing users a high quality search experience for every query. The carousel filtering experience is a good fit for some categories of local businesses. We will continue to experiment with different designs and interfaces to make sure that users get the information they're looking for, fast.
I'd like to see this feature in more languages and countries, please!
We'll work as fast as we can to roll out new features in as many places as possible, but have nothing to announce at this time.
My business is on the carousel, but I'd like to change the photo. How can I do t...