Penguin 2.0 Had the Roar of a Kitten
On May 22nd, Google officially unleashed the promised Penguin 2.0 update globally and from where we are sitting it didn't have the impact many expected. Spammy sites still held top positions and the complaints started immediately. Google responded with the release of a form allowing you to report 'spammy sites' that are still ranking highly *after* this big algorithmic shift. In his blog post Matt Cutts described the update as effecting 2.3% English-US queries:
"We started rolling out the next generation of the Penguin webspam algorithm this afternoon (May 22, 2013), and the rollout is now complete. About 2.3% of English-US queries are affected to the degree that a regular user might notice. The change has also finished rolling out for other languages world-wide. The scope of Penguin varies by language, e.g. languages with more webspam will see more impact."
Industries that were hit hardest were gaming sites, porn sites and some big brands not complying with Google's guidelines like the Salvation Army.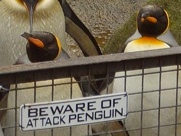 Again, just to be sure we're on the same page - Penguin is a harsher Web spam level penalty that is best known for targeting sites that partake in questionable linking practices, especially excessive anchor text rich links. For exact numbers and more specifics (including a great graphic) on what your incoming link profile should look like see our coverage of it here:
It's important for you to know that this penalty isn't ALL about link profiles. Penguin also targets sites guilty of any or all of the following:
Spun content
Low quality content
Cross-domain link schemes
Keyword stuffing
Excessive on-page optimization
Lack of on-site social signals