Our system is very simple to join and you can instantly begin to generate commissions. Just place the ready to use code on your Web sites, in your newsletters, and in your opt-in email broadcasts and make up to monthly recurring commissions on the lifetime of the customer!
We've found that using a personal endorsement of the product on your site will dramatically increase sales.
So, we highly recommend that you read and or use our products to be able to honestly give your visitors a compelling reason to click your link and buy. Tell them about your experiences with Planet Ocean and our products. Your audience will be able to tell whether you're using marketing "hype" or telling it like it is. Tell the truth - they'll appreciate your company for your honesty and your good solid product recommendation. Here are the products we currently have available for promotion:
Local Search Marketing Book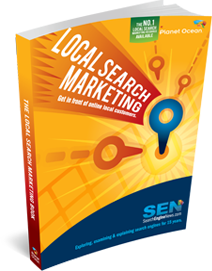 Commissions: $24.00 per sale
Payments: Payments will be sent by the 10th of each month, for the previous month's sales.
SearchEngineNews.com Membership Plans
"Hands down the most authoritative source on SEO Information I've encountered."
- Jim Shaw, seoforprofessionals.com
Commissions: 20% monthly commissions for as long as the member remains active.
Payments: Payments will be sent by the 10th of each month, for the previous month's sales.
The Details
We'll host a sales page on our site that we set up and maintain for you. All you need to do is place a link to that page where your customers will see it.
You can go ahead and order the products yourself after you've signed up as an affiliate and even receive a commission on them. The catch is that we'll only send you the commission on your purchase AFTER you've made another legitimate sale using your affiliate link.
We Do All the Work!
We process the order, fulfill the product, do all of the accounting, and handle all the customer support, tech support and maintenance of your affiliate site. We essentially do all the work while you earn some of the highest affiliate commissions being paid on the Internet. It's that simple.
When you complete the application form, your pages will automatically be generated and all the information you need to set them up will be sent to you via email. You can then immediately create links to your affiliate pages, start an email campaign, recommend products in discussions, send traditional mail, advertise, and do whatever else you think will generate sales (provided you do not engage in spamming).
Our experience has taught us that your best results will come from contacting those who know and trust you. An email of recommendation to your current customers or subscribers works well in this regard, as does most other types of personal recommendations. If you have ideas that you'd like to run by us, then please let us know. We assure you, we will listen. If you decide to do an email campaign, we will be happy to assist you in crafting the right letter for your audience.
Please let us know if you wish to sign up as an affiliate by filling in the form below. We'll get back to you with everything you need to know to complete the sign up process.
If you have any questions or concerns, please enter it into the box above.