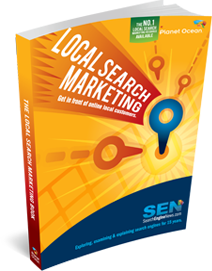 If you're not on the Map, you're road kill!
By now you know your customers are using Local Search to find you. They're using their smartphones to decide where to shop, eat, buy, & meet. They find their plumber, dentist, beautician, accountant, contractor, mechanic, photographer, lawyer, realtor etc, etc, and so forth all through the magic of Local Search. They make decisions based on proximity, social networking and reviews. The consumers are proactive and Local Search completely replaces the phone book!
That's why, if you aren't on the map, you're road kill. But, if you ARE, then you're smiling all the way to the bank!

So how much is that worth to you, really? ...think about it. Considering what businesses' have historically spent on yellow page advertising in the past, it's safe to say that getting it right is almost priceless . Almost.
So let's say it's worth at least $1000, maybe $10,000 over the course of a year ( just to pick some really low numbers because, frankly, if it isn't worth at least that much for people to know who to call and where you are, then how can you even be in business? )
After all, if your business ( or your client's business ) is dependent on being strategically well placed in Local Search, then you'd better know exactly how it works. And considering that Google is constantly, uh, "improving" their algorithm, then staying on top of the changes AND the local listings is a challenge that actually gives you an advantage over your competition provided that YOU stay on top (and even slightly ahead) of the changes.
Wouldn't it be nice if you had a Local Search Book that would show you step-by-step exactly how to do this? Well it's here. And that's why we're talking.
The Road Map to Local Search that you NEED to avoid becoming local road kill.
Here's the step-by-step small business guide ( in eBook format ) that you can download and have in your eager hands today. You'll find everything you NEED to know! The highlights include:
How to setup and claim your local listings on Google, Bing and Yahoo fast !

How to avoid getting hit by Google's infamous penalty stick.

How to build the citations your business needs to rank well.

How to deal with bad reviews...or no reviews.

How to track your Local Search campaigns.
...just for starters.
The book even teaches you advanced stuff like Understanding and Leveraging Rich Snippets and much, much, much, more! ...all for the paltry price of just $97 (seriously, think about how few customers it'll take to get your money's worth? ...10, ...maybe 2? ...only 1?).
If information is money,
then this $97 investment may be your best ROI of the year!
And we guarantee it! We'll give you a FULL 90 days to look it over, use it and see that you NEED this book to succeed in Local Search.
That's right, without it, you won't! ...but, if you don't agree, the book is free. That means you can get a full refund anytime in the next 90 days if you didn't get the value we're promising ( although you'll miss out on a year's worth of free Local Search Book updates ).
So, really, the decision is easy. Get it now, look it over, do what it says and enjoy the returns that'll make you smile all the way to the bank. We guarantee it!
Bonus:
When Local Search strategies change, we update the book. For the next 12 months we'll alert you whenever this happens. You'll be able to download the updated versions of the Local Search Book for FREE as a bonus. That'll keep you on top of new developments for a full year!