Are you in a competitive niche and floundering? Are you having a hard time improving your search engine rankings or positioning your site more competitively? Have you experienced Penguin related filtering issues due to previously poor link building practices? Where you burned by a supposed link building expert or firm and are currently lost as to what to do next? Do you know what a "good" link looks like?
Link building isn't easy. Quality relevant natural links that bring traffic, increase sales, and spur higher search rankings are even harder to generate. Fortunately, we here at SEN have you covered. Get the answers to all your link building questions and formulate an individualized strategy that will bring results with a link building consultation from industry expert Casey Markee.
Casey has provided link building services and training to companies and fellow SEOs on four different continents and written dozens and dozens of SEN articles on the topic. He is also a featured speaker at digital marketing events including; Pubcon, DFW State of Search, Digital Marketing Bootcamp, Camp Blogaway, and many others.
Schedule the sixty minute telephonic on behalf of your own site or the site of a client and receive all of the following:
Gain an unbiased blunt overview of your current link building profile.
Review your current profile for link toxicity and penalty triggers.
Visually see how your link profile compares to your major provided competitors.
Learn the four tenants of Google-friendly link building.
Understand the importance of content as a link generation tool.
Discuss the difference between Link Building and Link Earning.
Explore what link classes still work in a Post-Penguin Google world.
Receive a report of link building targets tailored to your specific niche.
Get the answers to any and all your link building questions.
Casey will deliver an initial link building email audit that shows the current state of your link profile and then discuss full findings, including all topics above, during a live 60-minute telephonic. You will also receive one week of follow-up email assistance to ask him any clarification questions.
You get all of the above for the incredibly low price of $750! And as always, this package is backed by the SEN 100% Satisfaction Guarantee: if you aren't happy, you don't pay!
And if you decide to continue soldiering through on your own, remember this advice: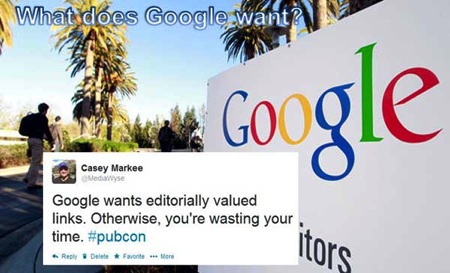 Client comments...
The consult was great. He really researched our site, came back with a plethora of recommendations ...we're light years behind in our web marketing strategy, and have a lot of work to do but he provided us with a map for that, and suggestions for resources. Please charge our card -- it was money well spent.
...insights were well documented with real life examples and examples from my website and PPC campaign ... follow-up email was in itself a valuable resource. It is obvious he spent a great deal of his time on our project.
Thank you, again, for this privilege to have my online business practices evaluated. I thought Planet Ocean was just for IT or SEO folks. Boy was I mistaken. I come into contact with many self employed folks in my occupation through the various trade associations I participate with. I KNOW of several who are in far more need for your organization's services than me (and that is no exaggeration). I'll see what I can do to drive business your way.