7 SEO Predictions for 2013
With the projected end-of-the-world date of December 21, 2012 fast approaching, I thought it prudent to get a jump on my annual list of predilections, prognostications and predictions that may drive your SEO marketing efforts in the coming year.
But first, if you didn't get a chance to review this year's 7 SEO Predictions for 2012 article it's worth your time. Overall, I'd say I did pretty well. I predicted that Google would lower the value of exact match domains (EMDs), continue to integrate author marked-up content in their search results, and provide a higher algorithmic lift to fresh, date-specific content.
Next, I predicted that Amazon would work to leverage its 160+ million customers to dominate the daily deals space against heavyweights Groupon and Living Social in 2012. Unfortunately, not only did Amazon not increase its stake in Living Social in 2012 but it actually took a third-quarter $169 million write-down on its investment. Ouch! Nevertheless, Amazon Local did make good inroads in 2012 and, although it hasn't unseated Groupon yet, it's killing them on mobile devices!
I then predicted that Siri would result in a paradigm shift with local search as others rushed to fulfill everyday needs through voice-initiated search. In fact, Siri predicated the introduction by Google of their Siri-clone, Google Now, which was pushed out live in August as part of a substantive upgrade to their mobile search UI. Google Now is still rolling out but expect 2013 to be a big year as Android phones will surpass 1 billion in 2013 and Android tablet sales are projected to pass Apple iPads (and thus Siri) for the first time.
Finally, I talked a lot about the continued domination of social networks in 2012. I stated first that this year was the year of Foursquare and although it recorded its 3 billionith check-in earlier this year, that's about all the positives they have to report. Not only will they only generate a paltry $2 million in revenue this year but their user growth has slowed: of their 25 million users, only 8 million are considered "active" each month.
Continuing on with social networks, I argued that Pinterest would continue to grow at a great rate (correct there), that Twitter Promoted Tweets would go mainstream (right again) and that Favo.rs, a site connecting business professionals together for mutual benefit would "blow up" (it didn't...yet). We'll call the social media predictions a mixed bag at best.
Overall, not bad. But what's done is done and it's time to look ahead. What does 2013 hold? Where do I see SEO going? What do Google & Bing have in store for searcher and site owner alike? Where should you concentrate your efforts for your own sites and those of your clients?
Here's where I plan to spend MOST of my time and resources:
My Magic 8-ball didn't do too shabby this year and my clients reaped the benefits. How will the above predictions hold-up in 2013? Check back next year and we'll take a look. In the meantime, enjoy an SEO in 2013 laugh courtesy of CopyPress.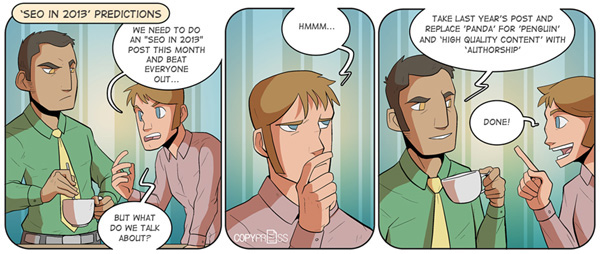 ---