AdWords for Local Businesses
Many small businesses can benefit considerably from Google AdWords advertising if their ads are seen by the right searchers.
The first thing to take into account is whether to set up a managed account or to use AdWords Express. Express used to be called Google Boost. I think of it as automatic AdWords.
AdWords Express

This product was a brilliant way for Google to get more small businesses to advertise online and gives SMBs a quick and easy way to participate in ppc advertising without having to learn how to use AdWords, which becomes more complex all the time. With Express, all of the advertising budget goes to attracting customers instead to management fees. It's particularly useful for clients with small budgets for whom you would not normally run an AdWords account. There is no minimum monthly spending requirement and Google only shows your ads to people nearby you.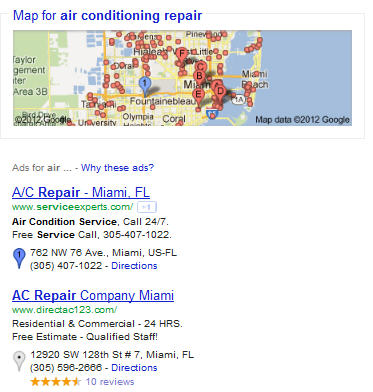 The ROI from Express wasn't too wonderful when it first launched, but it has now become a viable way to drive targeted traffic to many types of small businesses. Express can make you look good by enabling you to immediately attract targeted prospects to a business while you're working on optimization and waiting for it to kick in.
To use Express, you should have an owner verified Places listing. If you have multiple locations, each of them should have a verified Places listing within the same account. Double check your Places description, make sure you are using as many of the preset Google categories as are applicable to the business (you may choose up to 5 categories) and you can let Google do the rest.
However, a little tweaking will enable your campaign to perform much better than the one that is handed to you by Google. You can now edit ad headlines, ad copy, choose the destination URL and set separate budgets for each category. You can also use Google Call Metrics or call tracking system with Express, which is a recent improvement.
Unfortunately, all the terms Google bids on for you are set to broad match and you can't change it. Neither can you add negative keyword phrases, both of which can cause some of your money to be wasted.
Sometimes Express can be used to convince SMB's that ppc advertising works and you can then graduate them into a managed account. Sometimes you may need it to enable you to offer a complete marketing package at a reasonable monthly price, the way many of the Yellow Pages outfits do.
Managed AdWords Accounts
Prospective customers for national and international businesses can be physically located just about anywhere. But the customer pool for local businesses is much, much smaller, so it makes perfect sense to advertise only to those people who have sufficient potential to become buyers. Luckily, it's very easy to target customers by location in AdWords, even if the accuracy of that targeting is not 100%. This is done at the campaign level and then applies to all adgroups in that campaign.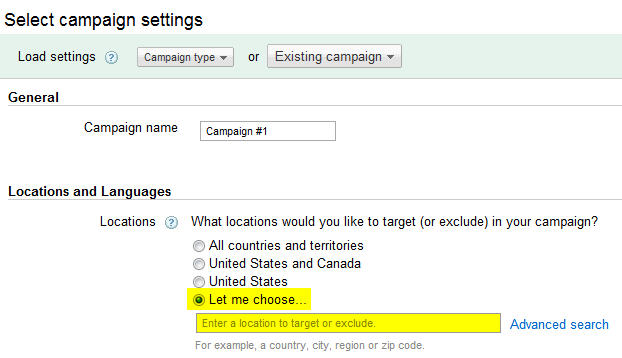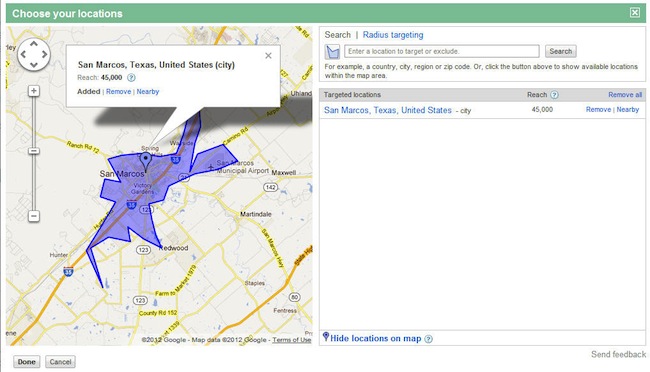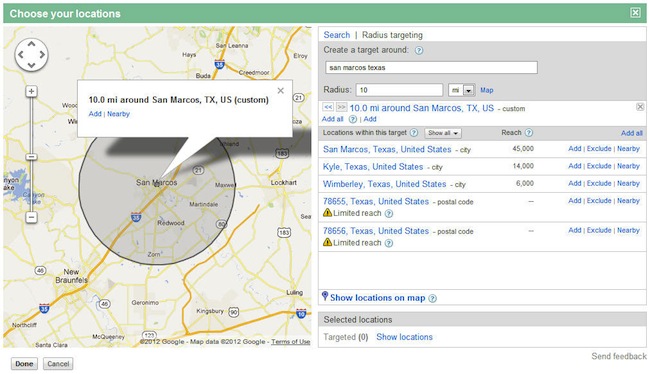 You can target and or exclude locations by ZipCode, city name, metro area, state or country as well as by a radius around a map point. You can even paste in hundreds of locations at one time, if you wish.
Different types of businesses will have different areas from which they draw customers. A medical specialist may draw patients from thousands of square miles around his office, while a family doctor usually has a much smaller market area. The geographic scope can change drastically by location, too. For example, in a mountainous area, a town could be within a 30 mile radius of another but be hours away from it by car.
You also have the option to show ads to people who exhibit local intent to Google regardless of their location. If you have the type of business that people outside of your area frequently patronize, such as a tourist attraction, hotel, or well-know restaurant, then this option makes sense for you.
You can associate your Places listings with your ads and opt to have your address shown beneath your ad when Google thinks it will be beneficial to the searcher. These are called location extensions. They can really help with your Click Through Rates and Quality Scores, but they don't come free. If anyone clicks on the directions link associated with these types of ads you pay the cost of a click even though they don't go to your website.
If you have multiple locations, Google will associate what it determines to be the best one for the searcher and show them the appropriate address. This can be manually overridden, if you prefer.
CONCLUSION
By showing your Google ads ONLY to people who have the potential to become customers, you can maximize the ROI of an AdWords campaign. Geo-targeting also allows you to really stretch a tiny budget. There won't always be a lot of traffic, but the searchers you attract have the best potential to become buyers, which is what we're all after.
---