Apple Maps, So What?
By now, everyone in the Search world has heard about Apple Maps or experienced it for themselves. Much of what is being said about it isn't very flattering, but that doesn't really matter.
Google makes a habit of releasing products that are far from perfect-sometimes so far from perfect that near-crippling pains mask the vision of what the product can become. Just look at Google +Local for Business. Five months after its debut it's still so mired in extremely ugly customer service issues that Google has barely been able to move forward with the planned new features on the front end.
Sometimes, this is done because a first step must be taken before even a fuzzy picture of where the second and third steps might be directed can appear through the fog. Other times, it's because the product will improve most quickly by gaining insight about who's using it and how they're using it, so it has to be released in to the wild. And sometimes crowdsourcing information is the most reliable way to make long strides in product improvement.
iPhone users are not accustomed to this chaotic kind of progression. They're used to Apple doing the most of the heavy lifting for them, so that their usage of the iPhone is easy, elegant and integrated. This step backward from the ever-expanding, detailed functionality of Google Maps to the awkward and immature Apple Maps has stunned and angered many of them.
Apple could have side-stepped much of this ire by releasing Apple Maps in beta alongside Google Maps. It quickly realized its misstep, but slowly (in internet time) came around to the idea that their devotees should have access to both and has just recently approved the Google Maps app for iOS6.
But, again, that doesn't really matter. Apple Maps, no matter how imperfect, is now a default program on the new iOS6 and will always be a default program for Apple going forward. People love iStuff, even if they aren't crazy about Apple Maps (yet). iPhones hold 50% of the market share for smartphones and 200 million Apple devices were upgraded to iOS6 the first month after its release. Christmas is just 6 weeks away. We can only imagine what the number of devices running it will swell to after the gift-giving season.
So, if you're a local business that relies on people finding your location online, you'd better perk up and pay attention to Apple Maps, NOW!
Where Apple Maps Gets Its Data
David Mihm provides us with an infographic of where Apple Maps is most likely getting its data here. The Apple Maps ecosystem isn't very complex right now, which will hopefully make it easier for us to add information to Apple Maps and to correct it if it's wrong.
First, make certain that your business is listed correctly at the major data providers that Local Search folk are already extremely familiar with: Localeze, Acxiom and InfoGroup. If the information is off, correct it, as that data is pushed out to Apple Maps, now, as well as to Google Maps.
TomTom and TeleAtlas
In addition, it's now critical to check your map location for accuracy and consistency at TomTom, which gets its map information from TeleAtlas. This is most easily accomplished by simply searching for your business from the Vind 'n Plek tab at TomTom.
Here's an example of the address for an historic landmark, The Hotel Jerome, in Aspen which TomTom has miss-pinned by miles. So don't make any assumptions – check!
If TomTom has your location wrong, turn to the source of their map data, TeleAtlas, to try to correct it. Go here, choose your language and follow the simple 3 step process.
First, enter the address and move the map pin to the correct spot on the map.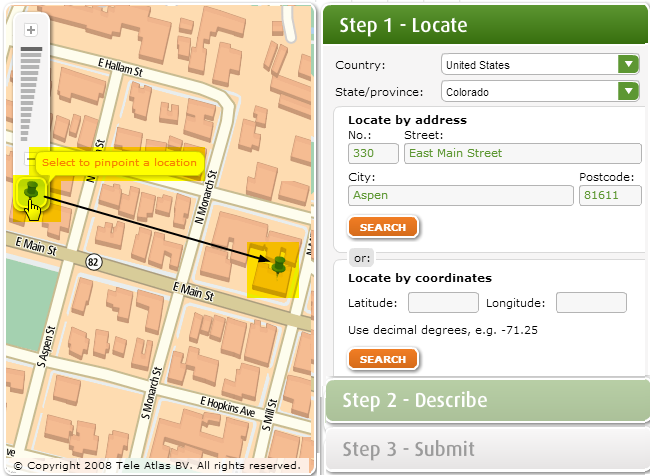 Then, choose the applicable category (for businesses, that's Point of Interest) and describe the change you wish to make and add some details.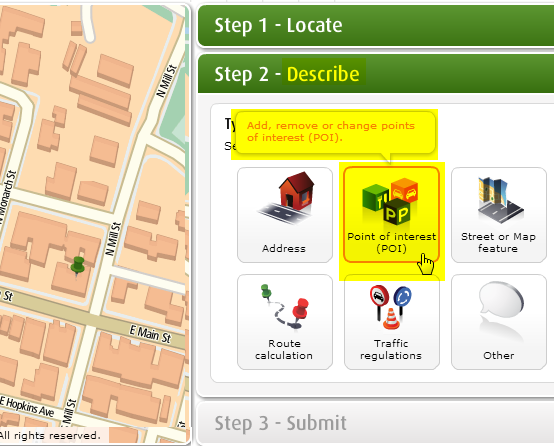 Enter your email address so that you can be notified when the changes are made, hit Submit and you're done.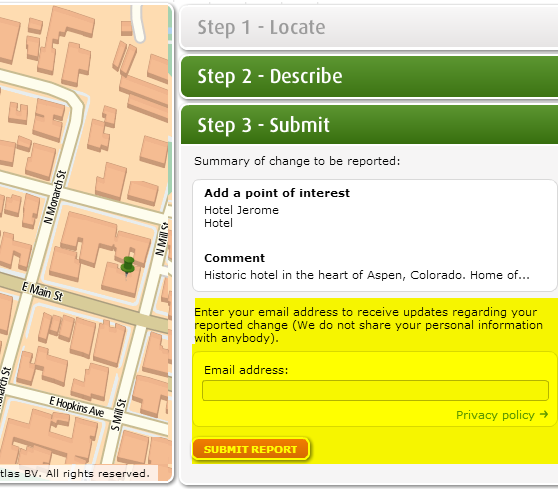 The infographic shows us that Apple Maps data is also derived from various other mapping services and directories, the most important of which is Yelp.
Apple's speaking search assistant, Siri, has always turned to Yelp for most of what she knows about local businesses. For many less-competitive types of enterprises, just being on Yelp used to be enough for Siri to surface their business information to the top for relevant local searches. Now, as everyone scrambles to stake their claim on Apple Maps, it's becoming much more important to rank well on Yelp. We'll cover how to rank on Yelp next month.
---