Are all Sitewide Links on your Site Bad? Read this to find out.
Every month we get great questions from our Business Support members focused on a wide variety of issues. With all the controversy surrounding links and the Google penalties we decided to upgrade the following question to be published so that you could learn from it as well...
"Google seems to be frowning on sitewide links more and more and we've been advising clients to minimize them whenever possible. However, from a hierarchal design point-of-view, how should we be approaching internal navigation? Are there good sitewide links? Are all footer navigation links now bad? How about social sharing buttons that are sitewide? Should we be limiting these as well?
Answer: That's a great question. First, be sure to that you're familiar and comfortable with our search archives function. You can go there anytime and enter keyword phrases like sitewide links and it brings up several resources, including the following: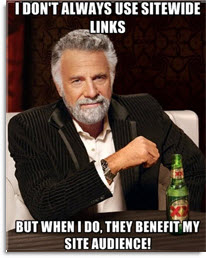 Basically, when talking about internal navigation and sitewide links, less is more. However, you do not need to remove ALL sitewide links on your site. But attention should be paid to remove duplicated sitewide links. For example, if you provide sidebar and header navigation, having that same navigation on the footer (which historically isn't going to be used) is just a waste of time and not a sound design practice.
Ask yourself: is my navigation beneficial to my site audience? That's how you can determine whether you want to use sidebar or header-based navigation. Both are fine. Do you need both though? Probably not. Most sites usually have either sidebar or header graphical navigation that they back up with text-based navigation on the page. That's fine. Problems with Google, however, arise when you replicate the same keyword-rich anchor text navigation multiple times on the page, across hundreds of pages, or even worse, between multiple sites.
So what's the best practice here?
We always recommend shooting for less than 150 internal links on each of your site pages. This helps keep crawler activity down and speeds up your site. Further, Google specifically details in their Webmaster Guidelines to keep links on a page to a reasonable number. In our minds, that's less than 150. But that's our opinion.
Next, it's important to recognize that excessive sitewide links, especially CROSS-DOMAIN sitewide links, are a known Panda and Penguin trigger. Why is this? We believe it's because the practice is unnatural, bleeds internal page authority and CAN be used as a link scheme.
We've conducted dozens of Penguin/Panda consultations since early April. Almost uniformly, affected sites shared some kind of sitewide linking issue either on-domain or existing cross domain with sites they clearly controlled. These issues usually involved the use of excessive duplicated anchor text rich linking text, though graphical linking was also identified in several cases as a big filter trigger.
Similarly, intent needs to be determined when looking at existing sitewide links. It used to be an accepted practice for web design or SEO firms to sign sites and provides a link in the footer either with something keyword rich like "SEO Optimization by ABC SEO" or "Website Design by ABC Design." However, this practice has almost completely dried up since any reasonable person could conclude these links were done clearly for search engine manipulation.
So to answer your question, yes, we believe that Google views duplicated links as superfluous, and when viewed against other factors (placement on the page, keyword-rich anchors used in the links, all links are dofollow, etc.) these can add up to what amounts to, at least algorithmically, a link scheme.
Next, regarding share tags as a negative sitewide link, we find no evidence currently to support this finding. Our experience, especially in the dozens of penalty consultations we've already done in 2012, shows not ONE instance of this causing an issue. In fact, to the contrary, the VAST majority of sites that trigger Panda and Penguin filters have NO social media optimization. Most uniformly lack social sharing buttons, a blog and even links to their social profiles! So of all the things to concentrate an internal audit on, this would not be high on our list.
In closing, sitewide links are NOT inherently bad...if they are used correctly. They should be placed higher on the page, serve a clear benefit for your audience, not be used for cross-domain linking and be relatively "nofollowed" throughout your site (except for perhaps your home page). This is especially important if you have a "weak" site (PR 3 or below) and thus have limited authority flowing down from your home page through all these excessive links.
- Casey Markee, Writer & Lead SEO Consultant, Planet Ocean
---