Beware: Google Getting Even Better at Identifying Duplicate Images
Search by Image has been used for pretty much anything like pinpointing the origin of old photographs, search by drawing, recursive search by image, and creating photo mosaics. Since its launch last year, Google has been making changes to the algorithms weekly to improve the way people use it and how it interacts with the normal search results. This is a feature that is overlooked by many but I feel that it's something you should stop to consider for a minute. Here's some of the latest changes announced by Google.
Image Search Results with Knowledge Graph
Google now has a better grasp on understanding the world the way we do with the use of their recent launch of Knowledge Graph. Google's Knowledge Graph provides a panel of additional information when searching with an image next to the normal search results. The results found in the Knowledge Graph panel provides a deeper and broader pool of information that may relate to your original search image. One cool new feature is that you can actually grab the image set inside the Knowledge Graph panel and drag and drop it into the search box creating a new search when using Chrome or Firefox 3.0+.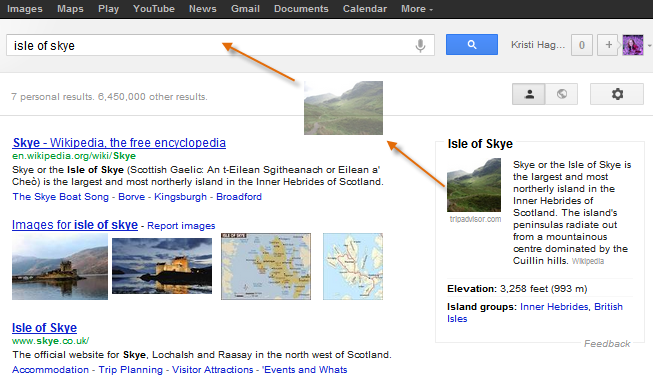 How "Search By Image" Works
Search by Image is most commonly used to find and learn more information about a specific image. You can find it when you go to Google's Image search and click the little camera icon to the right of the search bar. Once clicked you can either put the URL of an image in or just drag and drop an image from your computer to trigger a search.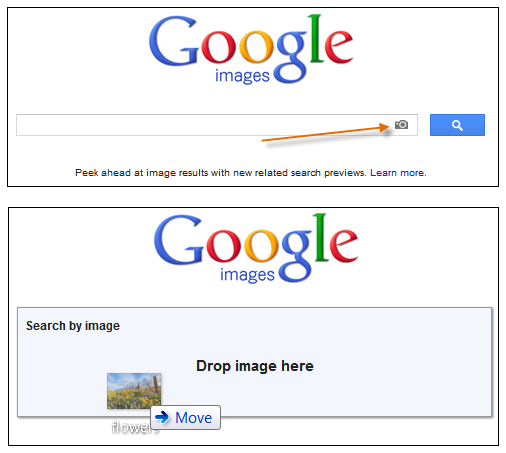 Google has expanded its index so that when searching with an image you can find a larger collection of sites that contain the image and the information that relates to it.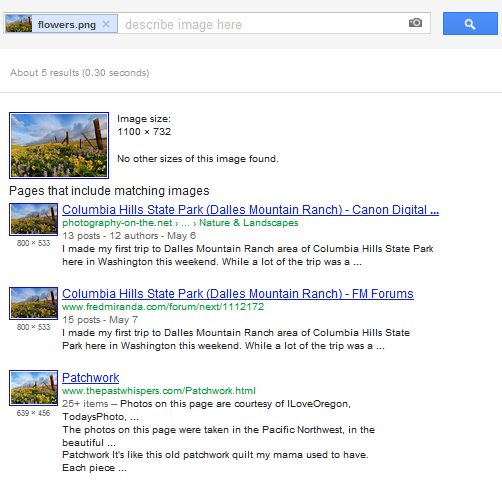 3 Reasons You Should Give a Damn...
1. Protect Your Copyrighted Images. Doing this search will allow you to find all the sites illegally reprinting your images. You could then contact them and ask for the credits you deserve as well as a link back to your site.
2. Create Unique Images. You can leverage this feature to create and modify images so that they will not be considered a duplicate. If you have product pages and use manufacture provided images then your product image will be seen as a duplicate. To avoid this you can do a few simple modifications to reduce the risk of it being filtered out of the image results as a duplicate image. Simply changing things like: file name, image size, add a boarder, or even a quick watermark are not going to do the trick. You are going to have to think outside of the box a little bit in order to be seen as original. Doing this will dramatically increase your chances of being ranked within image search for your product pages long term.
3. Google is Going to Go After Duplicate Images BIG Time. Like Bing, Google is taking these steps to make their image search more reliable and relevant. It starts out with these types of changes and then the next thing you know - they've improved their images results to be able to dramatically reduce duplicate images. We covered Bings shift in image search in July here: Bing Image Search Update Clamps Down on Duplicate Images Big Time. This sounds good for the searcher but again, if you're using product images within your commerce site then this can quickly kill your image research traffic which in turn threatens your bottom line.
If you count on image search for traffic to your product pages then now is the time to shift away from the mass produced product images to something fresh and original. If you don't in a month or two your images will be bunched up with the masses of duplicates and removed completely.
Take a look at the video below for more information on how to use Search by Image.
---