Bing's Updated Webmaster Guidelines Focuses Heavily on Social Signals & Page Speed
Duane Forrester announced November 16th on a Webmaster Center Blog Post the release of Bing's Webmaster Guidelines.
These new guidelines are actually very general and that's by design, and for the most part echo what Google advises in their Webmaster Guidelines. There are however a few tidbits you might want to take note of.
The new document is available when you sign in to Webmaster Tools, in the Help section, under the "Content Guidelines" sub section.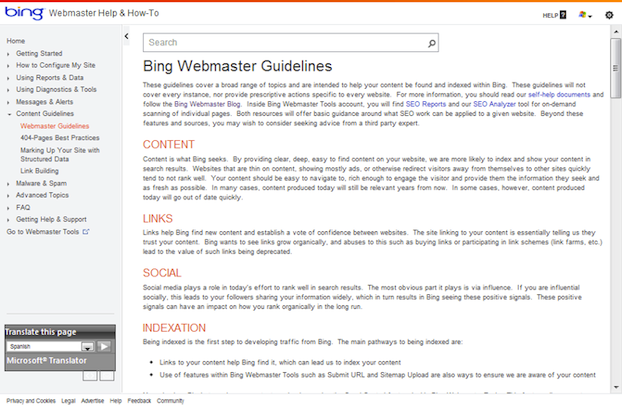 Social - Bing is clear that social signals do impact ranking, unlike Google who fails to address that question clearly.
Social media plays a role in today's effort to rank well in search results. The most obvious part it plays is via influence. If you are influential socially, this leads to your followers sharing your information widely, which in turn results in Bing seeing these positive signals. These positive signals can have an impact on how you rank organically in the long run.
Bing has deals with Quora, Facebook, and Twitter, so it's very likely these are the services they monitor in regards to social influence. But, be warned, Bing doesn't like the idea of using schemes to artificially inflate your popularity. They specifically address this issue in their guidelines.
Like farms are similar to link farms in that they seek to artificially exploit a network effect to game the algorithm. The reality is these are easy to see in action and their value is deprecated. Auto follows encourage follower growth on social sites such as Twitter. They work by automatically following anyone who follows you. Over time this creates a scenario where the number of followers you have is more or less the same as the number of people following you. This does not indicate you have a strong influence. Following relatively few people while having a high follower count would tend to indicate a stronger influential voice.
Page Speed - Bing specifically mentions that page load times can impact ranking...
This element has a direct impact on the satisfaction a user has when they visit your web site. Slow load times can lead to a visitor simply leaving your web site, seeking their information elsewhere. If they came from our search results that may appear to us to be an unsatisfactory result that we showed. Faster is better, but take care to balance absolute page load speed with a positive, useful user experience.
While they don't exactly say it, what Bing means is if someone uses Bing to search, clicks the search result, then clicks the back button quickly Bing believes that listing might be a bad result. The reason someone clicked back quickly might be due to a slow loading page, or irrelevant content or other reasons...however anything that causes a fast back-click can impact the URL's ranking in search.
Of note is one error Bing has been really going on about almost immediately after they released the guidelines, it's where they call the image alt attribute an "alt tag" which, is an incorrect statement despite being frequently used. The HTML img tag features the alt text attribute and that's what they are referring to as an "Alt Tag".
Forrester also announced a series of Webmaster Webinars starting late November. They will be conducting six free webinars during November, December, January and February. As an added bonus, they will feature some Q & A time as well. If you're not able to attend them, the webinars will be recorded as well for later viewing. To register, visit their Webinar Schedule & Signup Page. Note: Viewing the webinar requires Flash player to be installed on your computer.
We also should point out that Bing does have a rather comprehensive, FAQ document also available for webmasters available in PDF format which actually has more info than the Guidelines document. It's a bit dated as it was last updated March 15, 2010, but it might help answer some questions for you.
---