Get the Most from Blogging: Customizing Headlines for Social Media Sharing
Get the Most from Blogging: Customizing Headlines for Social Media Sharing
When you set out to enter the blogosphere, odds are you're going to be sharing what you write across various other channels. Every place from LinkedIn to Facebook and Twitter (and now, Google+) are potential outlets for sharing your blog posts – so how do you make sure that you're getting the most bang for your blogging buck?
Each social media outlet has its own nuances – things you can customize, character restrictions and the like. The most important thing to remember, however, is that your audiences most likely vary quite a bit between the channels. In today's post, I want to go over the three most popular social media outlets (Facebook, Twitter, and LinkedIn) and give you some tips for customizing your posts on each so they get you the best "click power" possible. While some might call it linkbaiting, for me, it's just a matter of knowing your audience and what they'll find interesting. And…never forget to ask yourself: what would I click on?
Custom Headlines for Twitter
Twitter gives you 140 characters to share your stuff, so it's best to keep things short and sweet. So how do you entice your audience to click on something if you've got so little real estate?
Rule #1: Your blog title on your blog doesn't have to match what you post on Twitter, Facebook or any other social outlet!
So, if you have a newsworthy post that says something like: 'Groupon Now has 115 million subscribers' --- that's pretty dry. Factworthy, yet dry.
For Twitter, you might want to try something like these:
That's one heckuva group! 115m subscribe to Groupon (link)
Are YOU in this group? (link)
115 million people subscribe to… (link)
Custom Headlines for Facebook
Facebook gives you even more options for customization than Twitter, as it pulls in thumbnail images from the post as well as the title and description from your website's metadata. Upside? You can EDIT both the title and the DESCRIPTION when you post a link on Facebook! All you have to do is click on the fields where you see the red arrows in the image below and enter your new text. If there are multiple thumbnail images it pulls from your site, you can use the arrows that will appear to the right of the thumbnail image to scroll and select.
For example, if you find a headline you need to share that says something like, ""Shakespeare In Celebrity Voices" Goes Awesomely Viral, Reveals Important Branding Lessons," why not try something like this: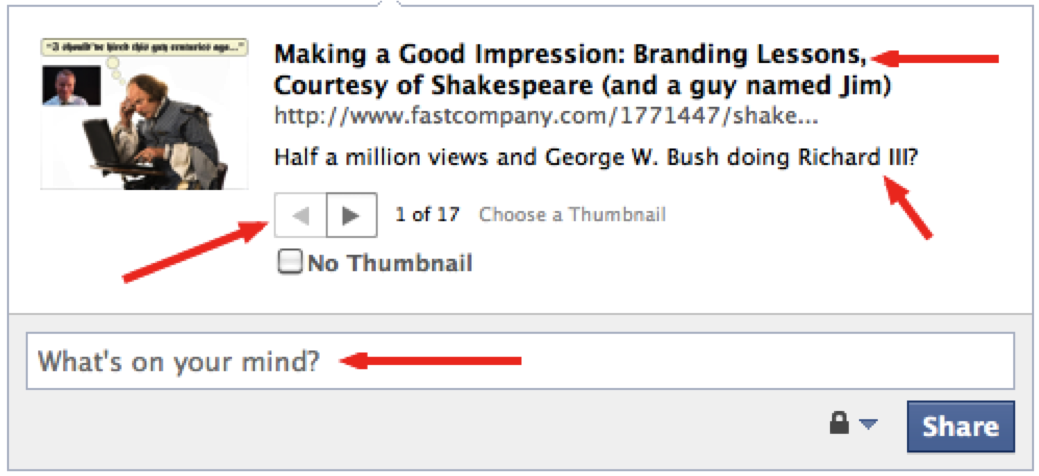 It's a reflection of the information in the post on Fast Company and adds some personality to the mix while staying 100% professional. And, you can still add a comment on the post in the "What's on your mind?" area, just as with any other Facebook status update.
Custom Headlines for LinkedIn
So, let's take that same headline from Facebook and share it on LinkedIn. Your audience here is likely even more buttoned-up than any other social outlet, but the good new is, you still have powerful customization options.
LinkedIn still allows you to add commentary to any post you share, select a thumbnail image (if possible), and edit the post description. The one thing you can't do on LinkedIn is edit the headline. Your best bet for customization is in the description field, where you'll click on the "edit" by the red arrow and shape the description to match your goals, audience and commentary. More limiting, but still customizable nonetheless. LinkedIn also allows you to post your share on Twitter by checking the box next to the blue bird. I don't recommend this as your audiences and post formats are VERY different between the two platforms. Best to post individually, y'know?

---