Google Rolls Out BIG Local Updates in February 2012!
What Google has termed the Venice update quietly rolled out over the course of a month beginning in late January 2012. There was no one big change we saw happen on any specific date. Instead, we watched intermittent changes in rankings and in the way Local Search results were displayed over that time period. The SEO community attributed some of it to testing and some of it as signs that an update was eminent.
Then, on February 27, Google outlined 40 changes it had made in the past 30 days, including a Local Search update it had named Venice. Not much other information was given, just these two notes:
Improvements to ranking for local search results. (launch codename "Venice") This improvement improves the triggering of Local Universal results by relying more on the ranking of our main search results as a signal.

Improved local results. We launched a new system to find results from a user's city more reliably. Now we're better able to detect when both queries and documents are local to the user.

What has the Venice update changed?
In a nutshell, personalization and localization have now melded together to greatly impact what we each see in our organic search results. Google is now trying even harder to serve you what it thinks are the most helpful results depending on where you are located, even if you don't use a geographic term in your query. And they seem to be doing a pretty good job of it so far.
This is a very big change for Local Search. However, I won't go into the details of the changes in what we've been seeing, as I'm sure you are witnessing them yourselves and they are also being widely discussed in Local Search circles. When looking at it in a big picture way, I believe it means that website optimization has become even more important for ranking local businesses highly in the organic results.
I also think that we could see Local Packs disappear from the organic SERPs in the not too distant future as Local results are totally integrated into the universal results. I interpret this to be in keeping with Google's stated goal of standardizing the results interface and integrating all results as much as possible.

Testing auto suggest for localization
There were two other changes were made in February that aren't getting attention, but which are likely to have a recognizable impact for Google's Local Search as they are refined and expanded across Google's products:
More locally relevant predictions in YouTube. (project codename "Suggest") We've improved the ranking for predictions in YouTube to provide more locally relevant queries. For example, for the query [lady gaga in ] performed on the US version of YouTube, we might predict [lady gaga in times square], but for the same search performed on the Indian version of YouTube, we might predict [lady gaga in India].
It appears that Google is using its video search engine, YouTube, to test and improve its ability to deliver appropriate local options in its auto suggest feature. Since YouTube is the second largest search engine in the world, it won't take long for Google to collect enough data to improve this capability enough to overlay it on the universal search results.
Then, when local search intent is determined, we can then expect to see many more local query options added to the drop down on our Google search box. Since auto-suggest is pretty much fueled by the popularity of particular search query, the popularity of specific local queries will influence the choices we are given via auto-suggest.
I see this as a plus for Local SEO's because many of us are already using auto suggest and related searches to try to zero in on the best terms for which to optimize local business websites. Keep an eye out for this localization of auto suggest to come to universal search. It could give you a bit of an advantage for a while, at least until your competitors catch on.
Depending on how far it's taken and how much it is integrated with social factors, this could give a significant advantage to brands that are the most popular within specific geographic areas.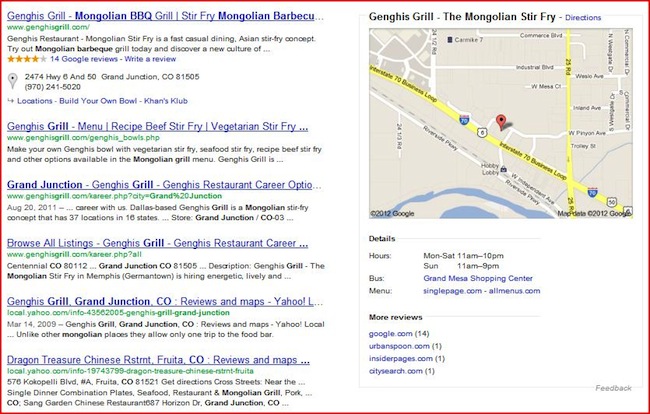 Local brand advantage
Speaking of brands, this update could have a very significant positive effect for small businesses on what we see in the SERPs:
More accurate detection of official pages. [launch codename "WRE"] We've made an adjustment to how we detect official pages to make more accurate identifications. The result is that many pages that were previously misidentified as official will no longer be.
Many small businesses have a difficult time outranking directory type sites, like Yelp and the IYPs, even for their own names. This is pure speculation on my part, of course, but hopefully Google is indicating to us that when a searcher appears to be asking for a specific business, that business' own website should appear first in the results since that is the official website for that brand.
Since large one-box results have recently become much more prominent for brand searches, most businesses will see this as a significant improvement. And since Place pages are now often displayed on the right side of the page for SERPs that include a one box, this gives that business and overwhelming amount of real estate on the page.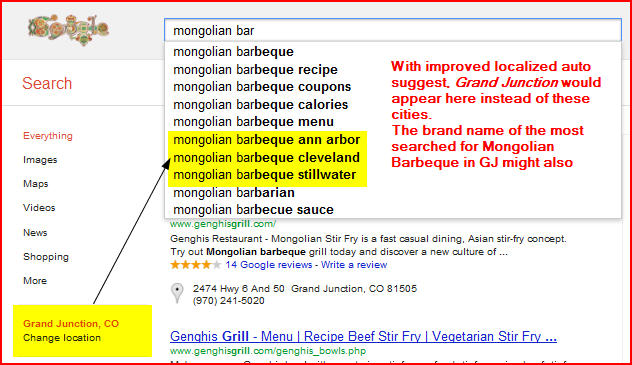 Winners and Losers
Personalization and localization are increasingly effecting what we see in the Search results making it harder and harder to reverse engineer the algorithms. It's really too soon to tell who the winners and losers will be in the Local Search ranking wars, as there is still so much we don't know. However, we do know that strong, popular websites for popular local businesses continue to gain an advantage in Google for queries with Local Search intent.
---