Google Releases Spam Take Down Reports
Google's site, How Search Works, features a prominent Fighting Spam section which features live spam takedowns and some other interesting details. For example, here is some gambling spam that Google has removed from their search results.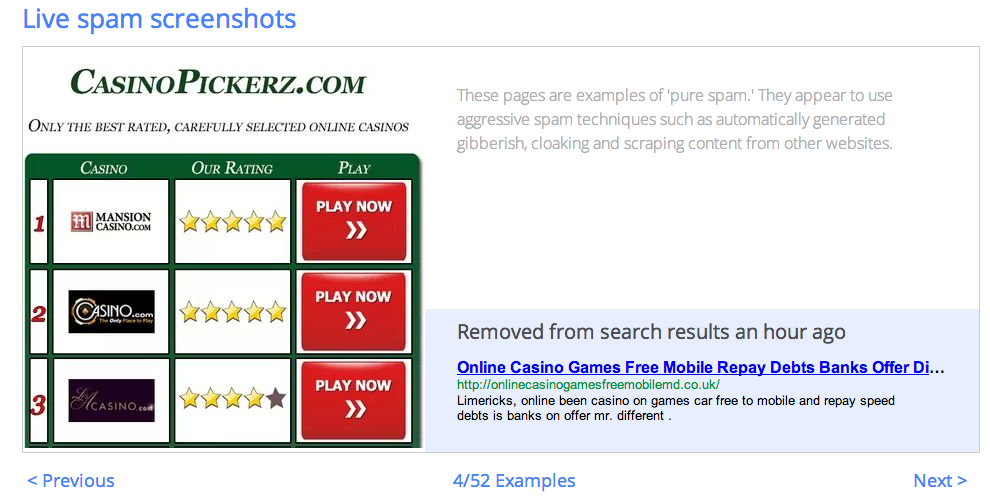 Within the Fighting Spam portion of Google's latest resource are statistics showing:
Manual takedowns
Type of spam taken down
Website notifications via Webmaster Tools
Reconsideration requests
Here is a screenshot of spam manually removed by Google, and the varying categories of spam.

While there are no clear definitions of what makes a high quality site. However, there are plenty of suggestions on what NOT to do (repetition, buying links, invisible text, etc). With technique and quality guideline links to Google Webmasters, the Fighting Spam page is yet another piece of the free Google resource puzzle.
Now, if you'd rather skip all the research and jump straight to knowing what Google considers spam and how not to get penalized then be sure to read our featured article:
Brought to you by the experts at SearchEngineNews.com. Who have had their finger on the pulse of the SEO industry for 16 years. Reading every mainstream blog, talking with industry insiders and separating what works from what doesn't - ALL so you don't have to. Learn more and signup for a 7 day trial for just $1!
---