Google + Zagat = ?
In September 2011, Google bought Zagat, a well-respected review guide for the hospitality industry. Most of Google's other acquisitions have focused on gaining technology, but with the Zagat purchase, it clearly goes beyond scraping content and becomes a bonafide publisher. This is a role that Yahoo has played well, yet it hasn't helped it much as far as search is concerned. It's also a role Google has avoided up until now.
Zagat curates individual reviews and pulls snippets from them to create a big picture of an establishment. It also provides an "editorial review" about a place and enables people to sort the opinions by the attributes most important to them, such as rating, type of cuisine, atmosphere, and the like. This is very similar to what we are seeing on the Google City Pages, which focus heavily on restaurants, and may have taken their inspiration from Zagat. Bing has integrated this type on content into its business listings and it may also be what we might expect to take front and center on relevant Place pages in the future.
The purchase will give Google more rich review content to publish, if it wishes to. But Zagat's paid subscription business model is reported to be rather profitable, so there's speculation that Google plans, instead, to use Zagat mostly to push its Offers and AdWords advertising, at least for the foreseeable future. If you go to Zagat, you're very likely to see a big Offers ad.

Zagat also holds events for its members. Things like exclusive tastings, special meals, kitchen tours, parties with chefs and wine experts and previews of new restaurants. This was very likely the inspiration for the Google Offers launch in Miami, where a private dinner party was hosted by Google for those buying its initial Offer to a popular local seafood restaurant. The huge Zagat foodie audience at its fingertips may have also spurred Google to quickly expand its Offers across the US, instead of sticking with their model of sending a team into a city, first.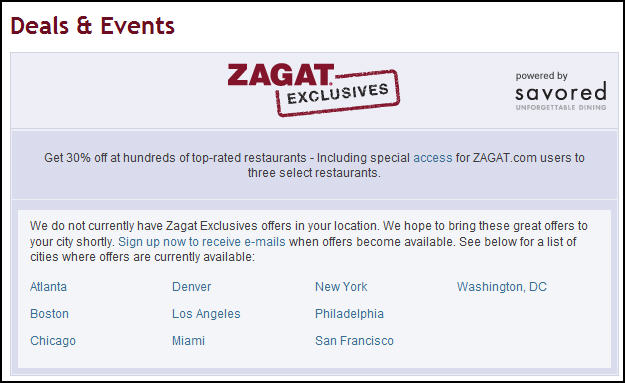 The acquisition also gives Google the popular and profitable Zagat iPhone and iPad apps on which it may show its own reviews and advertising. Zagat apps are integrated to some extent with Food Spotting, Urban Spoon and FourSquare. This may possibly help Google integrate more social interaction from other sites with that of Google+.
Zagat is also moving towards incorporating geo-fencing in its apps with Zagat Exclusives, which are group buying deals. Users who opt in will be alerted to these deals as soon as they enter a pre-determined geographic zone with their smart phone. Google Offers will most surely be integrated into Exclusives in some way, so, maybe it's the Zagat apps that Google is really after!
All of this is just speculation, but it's fun to imagine how the new Zagat brick in the Google wall might help it to build a stronger presence in the worlds of restaurants, deals, reviews and Local and Mobile search.
---