What to do when you receive a Google Unnatural Link Warning
We've been receiving an increased influx of questions into our online support system from current subscribers who have received a Google Unnatural Link Warning through their verified Webmasters account in 2012. This type of notification is a recent change by Google (we first noted it back in August 2011) and marks a new shift in the level of communication that now exists between site owners and the Google Search Quality Team.
Historically, one of the most vocal complaints that site owners had with Google was their notorious tight-lipped demeanor in communicating Google penalties or "slaps" when these were handed down. As we've covered in our Ultimate Guide to Avoiding Google Penalties, as late as April 2011, the norm by Google was to provide NO notice that a site had triggered a penalty (either manual or algorithmic).
Instead, site owners usually woke-up to find a drop in rankings and traffic and then had to spend hours identifying possible causes, correcting perceived issues, then submitting a reconsideration request with the "hope" that they had guessed correctly and fixed the right issues. Needless to say, this was not user-friendly and usually resulted in the site owner either having to seek professional assistance or submit MULTIPLE reconsideration requests to address all possible penalty triggers.
Fortunately, this recent change by Google is a WELCOME and much needed shift in transparency and has been a long-time coming. But first, if you haven't yet received one of these "unnatural link warnings" in your own account (good for you!) here's what they look like: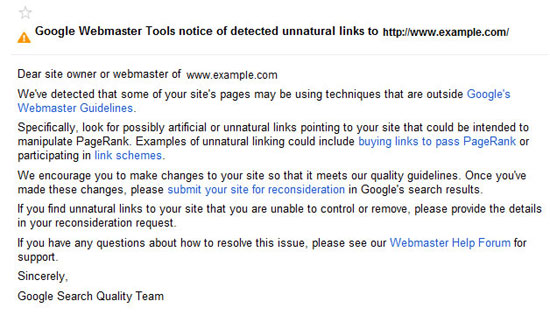 Now, if you have received one of these in your account then clearly you want to take it seriously. Google obviously found something in your backlink profile that was so curious to them that they felt the need to send out this notice. Your first step should be to conduct a detailed backlink audit and identify any possible link penalty triggers. Specifically, you want to work at identifying the following:
Excessive home page or blogroll links from low-quality or questionable blogs.

Links from high PageRank sites that may not be thematically-themed to your site.

Links from private blog networks that Google has gone after in 2012.

Reciprocal links with highly repetitive anchor texts that would qualify as a link scheme.

Other links that visually would not pass the sniff test from a Google quality rater.

I recommend that you conduct this link audit by using both the link data that Google provides for you within your Webmaster Tools account, and a commercial tool like Majestic SEO, Web CEO, or the Open Site Explorer. The more link data you can pull for comparison purposes, the better.
Once you've identified any questionable links make sure to both remove them and note them individually where possible within your reconsideration request. For tips on how to word your reconsideration request and what to include within it please review the How Do I Ensure a Successful Reconsideration Request section within my Ultimate Guide to Avoiding Google Penalties article.
Finally, it is worth noting that we've had reports from clients who have received this Unnatural Links Warning and yet have noted no drops in rankings or traffic, even after several weeks. This could imply that many of these reports are automatically generated OR sent as warnings that action "may" be taken in the future. In other words, this was a wake-up call from Google that they have you on their radar!
Nevertheless, it is our advice that ALL these warnings should be taken seriously and that you use the opportunity to conduct a link audit or alter any current "questionable" link practice that would fall under Google's definition of link schemes.
---