What's New In Local Search April 2012
We start seeing the results of the Venice update settle in to the SERPs:
Personalization is now baked right in unless you purposely take action to prevent it-not being signed into a Google account is not enough.
More true Local businesses appear in the organic results and higher up in the results, even when a geographic term is not included in the query.
Local directories seem to have been given a boost in the rankings
Organic and Local results are less distinct to the average searcher and are woven together in the results.
One Boxes are back- big time!
Descriptions disappeared from the Local packs-at first this was thought to be a bug, but it looks like it's sticking.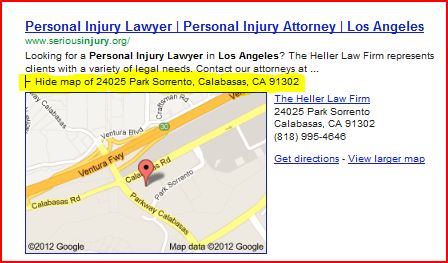 Consolidation of all things Google continues in Google Accounts, but Places is still not integrated. In fact, it's sometimes hard to even find a link to your Places dashboard anymore.
You are reminded to update your Local Search Ecosystem charts from David Mihm to the newest version, which can be found here. If the charts you are now using have a white back ground, those are the old ones. The updated ones have a gray background. If you are not familiar with these awesome infographics, don't just view them, study them, print them out and keep them close by. They will make it much easier for you to correct NAP inconsistencies across the website by seeing who provides data to which sites online. The explanations that go with them are priceless, as well.
Google+ and Google Places can now be successfully married together to get the author's photo to show in a local result.
How important will schemas will become in Search? Anthony Long publishes a great article on schemas that explains that for us. If you're not yet sold on the idea of using them on your site, you need to read it! Then, start using schema ASAP.
Maps Guide Vanessagene tells us about the amount of time we should expect it to take for updates we make to our Place pages to go live. Unfortunately, I haven't really found most of it to be true at least with the listings I deal with. Perhaps the most frustrating problems – duplicate and merged listings – still take what seems like forever to be resolved.
The ability to make posts to your Places page breaks and is repaired - quickly.
Bizable publishes a Local ranking factors study. This company has little to no reputation as one with Local Search expertise, experience or success, but there are some interesting aspects, so take a look at it. They say it's a 5 part study but I have only been able to find Part 1. Where's the rest?
Google Places publishes a new Business Listing Quality Guideline. Apparently, they began enforcing this before they ever published it and then didn't really bother to tell anyone about it. Seriously? Service businesses that don't conduct face to face powpows with customers at their location must hide their addresses. Google has already revised this new guideline once to help clarify it:
If you don't conduct face-to-face business at your location, you must select the "Do not show my business address on my Maps listing" option within your dashboard. If you don't hide your address, your listing may be removed from Google Maps.
Microsoft AdCenter is removing your ability to geotarget 10,000 cities in Canada and the US. Why? The AdCenter blog says:
Because these cities have seen no measurable traffic, this change will have no negative impact on the performance of your campaigns.
So if you have a hyperlocal business in say, Haddon Hills NJ, Adcenter now wants you to change your targeting to Philadelphia. In another example, advertisers currently targeting a small town in the valley where I live, El Jebel, are being advise to change their geotargeting to Denver, which is 160 miles east and over two mountain passes. I think I'm safe in thinking that no one in Denver is going to be interested in what movies are playing at the El Jebel movie theatre and that not many people in Philadelphia will drive to Haddon Hills for local products or services. That sure sounds good and very profitable for Microsoft, but not so good or profitable for the local advertiser. Better check your AdCenter accounts now!
Interesting Factoid about Maps taken out of context:
…Google Maps remains dominant; the (New York) Times says that 71 percent of the nearly 92 million people who viewed a map online in February were using Google Maps.
Most of you are aware that Googlers use Street View Google maps when calling to check up on the existence of business locations. Google it gives us a confirmation of this (the bolding is mine) here:
We're currently running an experiment in which characters from Street View images are appearing in CAPTCHAs. We often extract data such as street names and traffic signs from Street View imagery to improve Google Maps with useful information like business addresses and locations. Based on the data and results of these reCaptcha tests, we'll determine if using imagery might also be an effective way to further refine our tools for fighting machine and bot-related abuse online.
Check your Map points and correct them if necessary. Place the marker either at the building's main entrance or centered on the top of the structure. Zoom way in on street view to help you get this right. If your clients are not in an area you are intimately familiar with, get them on a screen share with you, enlist their local knowledge and place their map marker with pinpoint accuracy.
The Google Places Help Forum was shut down and replaced with a new one. Mike Blumenthal scraped much of what was there before it was shut down and it can now be found on his site. The new Places Help Forum can be found here.
Philadelphia, PA and Dublin, Ireland get their own Community Managers, Cheldin Barlatt Rumer and Brian Herron, respectively. You can follow them on Twitter as @GooglePhilly and @GoogleDublin.
The Local packs keep shifting in sizes. Blended and pure Maps listings appear together in the Local packs. Rankings bounce around A LOT! We appear to be in the middle of another update of some kind.
Geo Sitemap support is retired at Google, so if you're getting an error in Google Webmaster Tools on yours, that's why. KML files are still fully supported and should still be used to show your Map points to Google Earth.
Google City Pages have not expanded beyond 6 cities. What's up with that? Maybe now that they own Zagats, they don't have to imitate Zagats?
Google releases an app to help you map indoor spaces for Google Android use. If you have large buildings, like malls, office buildings, convention centers, etc. this should save you a lot of time and make it much easier for searchers to find what they are looking for within your place.
Universal Business Listings seals a deal with Yext for real time (or near real-time) listing updates across various local portals. Real-time updating is very good. I've experimented with Yext Powerlistings and it works! The UBL offering is Powerlistings plus other features and costs $100 more. I have not had very good experiences with UBL's customer service lately, so I wouldn't go whole hog until you test it out and make sure you can get the support you need.
Help Desk Hangouts are launched in Google+ . To participate, you must first be on Google+ and add Google+ for Business to a circle. Nothing like hanging out with Googler's and asking them questions! I watched a Hangout on Air on Google Places It was worthwhile since it's always good to hear what Googler's say (and don't say) about particular issues. Hangouts on Air are different from the regular Hangouts in that only 10 people can participate. Others can chat in, but you don't have full interactivity. Fortunately, the Hangouts are recorded so that you can access them on YouTube at your convenience.
Data providers Localeze and Locationary have joined forces to share business data via a cloud service dubbed Saturn, which will enable them to cleanse and match up data in real time.
Twitter reaches out to SMBs by publishing a guide for small businesses in conjunction with it's launch of small business advertising products. You can download it here.
Google is testing a new loyalty rewards program within Offers in San Francisco.
---