What's New in Local Search August 2012
Matt Cutts states in an interview with Eric Enge, that the pages for each franchise or chain location should be unique. He also says a few unique sentences are all that is needed. I disagree. To make location pages really useful landing pages for visitors, you need to localize them as much as you can with information unique to that particular store or service provider.
Offline maps become available via the Google Maps app. Save up to 5 geo-locations and you can view them even when your connection is lost or you can use them to save on data charges.
The new Apple mobile operating system iOS6, due out this Fall, will integrate Facebook into many of its apps providing an almost seamless Facebook experience while using Siri, Calendar, iTunes, etc. Apple has now partnered up with both Facebook and Yelp as Google tries to force users onto its much-less-popular social network Google+.
Google adds indoor maps on Android devices in the UK. Over 40 popular venues are already mapped and any building owner can now upload their own maps. At just about the same time, Bing adds 2,700 venue maps for North American, Asia and Europe. Google boasts a total of about 40,000 indoor maps.
Apple announces that it is releasing its own maps app based on OpenStreetMap. This is designed to reduce the number of Google Maps users on iPhones and iPads and as an iOS default program could easily do so. Unfortunately, right now the Apple maps are rather sparse. They lack the rich location data Google Maps provides and Street view imaging. If Apple really expects to compete, it needs to greatly improve its map product. Analysts also question how well Apple will be able to integrate data from multiple providers into this new system. Google has its own maps, its own database of businesses, help from the Map Maker community and a big head start, so it'll be interesting to watch as this battle for Maps heats up.
Google is testing a cost per lead ad service for new car sales in the SF Bay area called Auto Advisor.
Bing and Yelp partner up in local with Yelp providing photos, reviews and details about businesses to Bing business pages. Yelp is also hooking up with Apple on its new maps product and providing even more content to Apple's search assistant, Siri. This gives Yelp even more influence in Local Search, especially with its reviews and especially on mobile devices. Although it's critical to get Google+ reviews right now, small businesses better be encouraging reviews on Yelp, too.
The fees for the Google Maps API are drastically cut by more than 80% in an attempt to keep disgruntled developers from defecting to other maps databases, notably OpenStreetMap and deCarta.
Marisa Meyer takes the helm at Yahoo. This may be more significant for Google than for Yahoo, since Meyer has been aggressively driving location services in an effort to solidify Google's domination of Mobile Search – Plus Local, Street View, Maps, Earth, Zagat, etc. Google announced she will not be replaced. Instead her assistants will share her duties and report directly to Jeff Huber, the Senior VP in charge of commerce and local. It may be of some importance to note that even though Yahoo relinquished organic web Search and ppc advertising to Bing, it never threw its local products into the mix and has continued to harbor them under the Yahoo brand. The gigantic FAIL of Google's Plus Local integration may have cracked open a welcoming door for Yahoo Local to step in and cover some of the gap created by completely frustrated SMBs who have little hope of navigating their way through the maze. But since Meyer was behind Google local as it plunged into this morass, the real question is can she do it?
It becomes evident that Google has either intentionally purged or mistakenly lost tens of thousands (some estimates say hundreds of thousands) of business listings from its database of local businesses. The effect on some businesses is devastating and the effect on Local SEO's trying to help them becomes overwhelming.
Google increases its monetization of Maps by going into direct competition with mobile workforce management systems with its new Google Maps Coordinate product. Popular among large service providers looking to improve efficiency, like cable, utility and delivery companies, such systems provide real time location tracking of employees and equipment.
Link-removal extortion becomes a new word in the SEO vocabulary. Some crummy sites that furnish low quality links are requesting payment from webmasters to remove the links they have to sites trying to clean up their link profiles. These sites are on their death beds. Certainly, no one will ever pay to be in listed or advertise on them again. So they are trying to make a few bucks as they take their last gasps. On the other side of the story, there are at least a few SEO companies threatening sites that link to them with legal action if the links are not removed. Maybe they plan to use these notices as evidence to Google of how hard they are trying to get rid of suspect links? Meanwhile, a few out-of-the-box thinkers are considering the viability of requesting the removal of good links to their competitor's sites along with the idea of shooting bad links at the web pages of their online enemies. I'd hate to be the victim of this strategy, as I don't see a way Google can shut it down before serious carnage results. To add to the panic and confusion, Google sends out another wave of unnatural link notices and then pretty much tells us they can be ignored. The world of links certainly has become riddled with landmines lately and those who rode high in the rankings as a result of lazy link building are now suffering the consequences.
As Google+ management APIs open up to hundreds of developers, we can only speculate on the impact this might have on Google+Local. Most of the interested parties appear to be social sites that wish to integrate with Plus pages. And it's likely that is Google's intention, as well. But are we about to see Yext-like real time updating at Google via a host of new listing products, too? Will big brands that can afford custom software development gain yet another advantage in Google's Local space? This is definitely news to keep an eye on, as the implications could be enormous for SMBs.
Google tells big brands it's better to have one big website that covers all of your locations instead of a separate domain for each location. Theoretically, I agree, as one big site has more inherent ranking potential, is easier to create content for and easier to maintain than hundreds or thousands of smaller sites. But there are so many possible varieties of circumstances and scenarios that I'd carefully consider each case individually and not blindly follow this advice.
Foursquare enables local updates for businesses in the form of messages that are automatically shared with people who like them or check in there often. There's no need for a user to subscribe to anything. If they check in, they see the update and if they are nearby you, you show up in their friends tabs. Anyone viewing your page also sees the update. The Foursquare updates can also be pushed out to Twitter and Facebook at the same time, with or without photos. The updates, which many businesses will use to offer coupons and announce sales and daily specials, can be easily managed via a dashboard that can include multiple locations and provides feedback via analytics.
While the bulk upload process in Google Places has been improved, the verification process and the time frame for sitting in limbo while pending review has not.
David Mihm and Darren Shaw publish the best citation sources by city for 93 markets and the best citation sources by business category for 71 local search categories. Bookmark these links! They will save you a ton of research time and get you quickly started down the right path with your citation building tasks. You'll see that the basic citation sources are pretty much the same for most cities. You'll also see that certain citation sources are common across types of categories, say contractors or service businesses. The most important sites, though, are the outliers in each of these sets. Those are the ones that can push you ahead in the rankings when the going gets tough.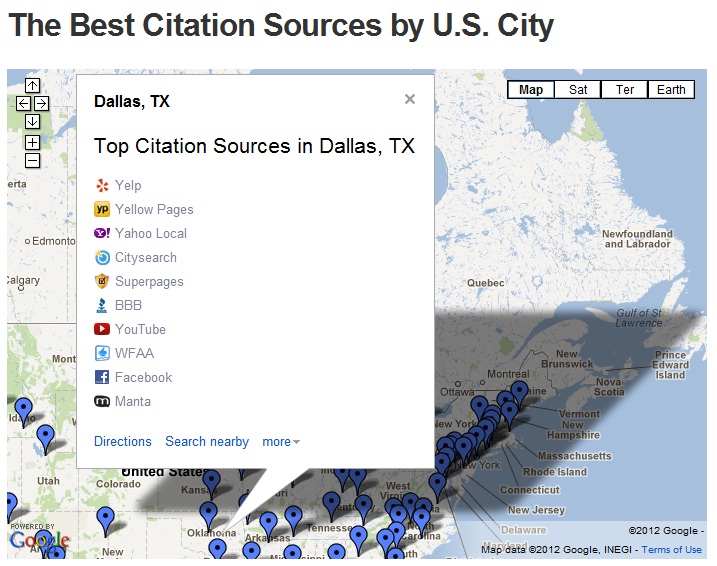 Google adds new guidelines for users for posting photos on Google+Local. Since image uploads from business owners are totally backed up and taking forever to go live on Google+Local pages, you may be contemplating uploading photos as a user, instead. I think it's a great alternative, but do take a look at these new rules before you waste your time trying to set images that won't stick.
The support (or should I say lack of support) nightmare continues with Google+Local, which is easy to see with a quick scan of the help forum. If you lost listings and they haven't come back by now, you'd better just start over, as Google seems totally overwhelmed by the mess it has made for local business owners. Although the situation can only get better, this is yet another breach of trust that will serve to actually drive businesses away from Google local products rather than prompt them to participate. It's a given that Google will make Plus "stuff" count in the local algorithm, as least for a while, in order to pull SMB's back in whether they like it or not. If Local Search is important to you, ignore Google+Local at your own risk!
---