What's New in Local Search December 2012
Here is the December 2012 installment of 'What's New in Local Search'. It's been another busy month so I won't waste your time and am just going to dive right in.
It's a no brainer that mobile devices will play a huge roll in shopping this holiday season. Smart phones and tablets will be blazing with mobile search, mobile advertising, coupons and deals, product and price comparisons and checks for nearby product availability. If you or your retail clients arenít onboard with a mobile and tablet friendly website by now, youíre going to feel the pain this Christmas.

Yelp ditches Google Maps in favor of Apple Maps as part of its partnership with Apple.

A Google+Local bug (yes another one) prevents many non-US phone numbers from appearing correctly on Plus business pages.

Yahoo outsources Local Search in Canada to YellowPages.ca .The two have had a tight relationship since 2007, so it isnít really big news in Canadian Local SEO circles that when you click on a link in the Yahoo!Canada local search results, you go to a customized version of Yellowpages.ca. Yellow Pages group also provides local data to Google in Canada, so itís not hard to see how important is for north-of-the-border businesses to be accurately listed there and to provide as much information as they can via that listing.

Twitter bribes 10,000 small US businesses to try out their advertising with $100 credits to coincide with Small Business Saturday.

You can now (probably) make your business hours display as open 24 hours on your Google+Local page by setting your open and close times both to 12 am. Of course, Google has some restrictions on this that may or may not jibe with real world scenarios and it also hasn't bothered to change the editing screen in Places to make this obvious to everyone.

Google+ pages for some big cities have been spotted. Assume that these take the place of the old Google City Pages. Look for one for your own city by putting this URL into the browser bar with Cityname replaced with the name of the city you want to check on: https://plus.google.com/u/1/+GoogleLocalCityname/posts

Yelp buys Qype, a huge European rival, which gives both it and Apple Maps more data AND more influence in Local Search overseas.

Avvo has a couple of attractive new packages for promoting law firms online. It certainly isn't everything lawyers need to market online, but itís a good start with an affordable website, hosting and data distribution package with human support. It can be upgraded to include CRM features such as contact management and lead tracking, as well. If you market to lawyers, Avvo is your competition, so check out their new offerings to see what theyíre up to.

Google is now fully committed to coupons with the acquisition of Incentive Targeting whose platform makes pushing coupons out across mobile and social easy and trackable.

Heads roll over Apple Maps as it seeks to put a new leadership team in place. That's absolutely hilarious when you think about the mess that's been going on at Google Maps/Places/PlusLocal for the last 6 months! There are obviously different expectations at these two companies.

Real estate companies return to the Local Pack results in the SERPs. Is there hope ahead for SEO firms, as well?

Factual.com now has some the most comprehensive data about restaurants available via an API. It includes information about 1.2 million restaurants and includes attributes, such as the availability of alcohol, pricing, attire and parking along with the more typical hours of operation and ratings. This data is sure to show up in mobile apps, since Factual is already partnered with Foursquare and Yelp and offers up to 10,000 free calls a day via it's API.

Yelp reveals that it is in 96 different geographic markets, that 45% of the searches made on Yelp are done on its mobile apps, which are installed on 8 million smartphones and that its body of reviews now tops 33 million.

If you have any clients trying to sell cars without investing in mobile marketing, including a mobile-friendly website, this article on mobile conversions is a must read I imagine it applies to similar products that work on a dealer model, as well, like trucks, motorcycles, RVs, boats, snowmobiles, ATVs, etc.

Google is using the shopping season to bribe small businesses into advertising on AdWords Express with a 'free' month of advertising in December. (of course, there are conditions).

A new local ranking tool is released by Keyword/Search/Rankings with some interesting features. It will check local rankings all over the world-2500 cities and 150 countries. It's also able to show which local terms have the least amount of competition in particular geo-locations, which could be very useful. There's no reason not to give it a whirl since there's a free version available at http://www.keywordsearchrankings.com/tour

Foursquare announces a new 1-10 scoring (rating) system that is claims is different than the others because:

We look at signals like tips, likes, dislikes, popularity, loyalty, local expertise, and nearly 3 billion check-ins from over 25 million people worldwide. And, with every check-in and Explore search, our scores will get smarter and better.

They are certainly on to something here. Although it doesn't remove the opportunity for faking sentiments, it does require a lot more work to actually go to a business, which is evidenced by a check in, than it does to write a review from half way across the world using an un-real user profile. I expect Foursquare's advantage in having verified reviews is something all other savvy review sites covet and are working towards with their own check-in systems. Why not just piggyback on Foursquare's check-in system instead of trying to reinvent it?

Get your hands on a copy of this recent national study by Yellowpages.com, How Consumers Are Using Local Search, to see more great graphics like this one: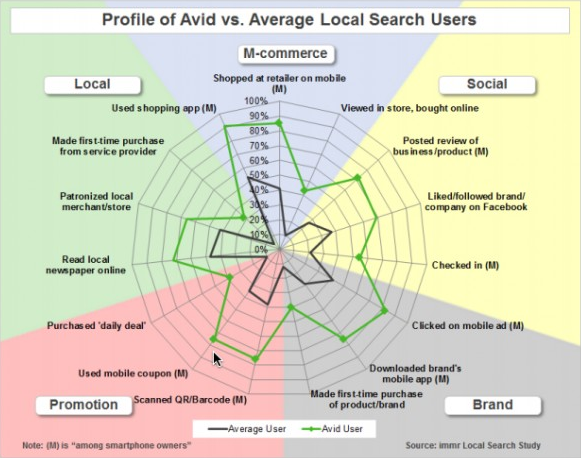 There's a good discussion on Google improving the local claiming process for small businesses here. My 2 cents: The incentive to claim your business on Google should be the ability for the owner's input to trump the other data Google finds out there about it. While spammers have certainly fowled that nest, there's a massive reverification effort going on with Google+Local. Hopefully, this will once again allow Google to better trust the input on owner-claimed business listings. In the meantime, it's pretty painful for all of us.
Google Maps starts giving out web badges for those who contribute to its location data via MapMaker. Itís kind of like one of those feel good groups though-even a brand new mapper with just one edit gets a badge. You can earn up to 5 stars by making 100,000 edits. I can understand how a bored person in a undeveloped area might have the time and motivation to earn a few stars, but who really has the time to do what is apparently being done within this community? And why? Is Google is in danger of creating a new spam mess for themselves (and the rest of us) with the crowdsourcing system at MapMaker?
Wordpress rolls out templates specifically for restaurant websites, making it easy for them to build a site with everything a dining establishment needs already baked in. The sites are mobile-friendly and join Weddings, Bands and Cities as verticals getting some special help from Wordpress. Expect more to come. This is great news since so many of them have sites that look good, but don't help them at all with the Search Engines It's interesting to note that over 17% of all sites on the web are powered by Wordpress!
---