What's New in Local Search February 2013
Here is the February 2013 installment of 'What's New in Local Search'. It's been another busy month so I won't waste your time and am just going to dive right in.
Foursquare has almost removed the ability to be anonymous, but not really. It's going to show your first and last name, but it is possible to go by a false first and last name. At least Foursquare does insure that you've actually visited the place by checking, though. Watch for this trend in all the spaces that enable ratings and reviews. There's just too much suspect review content out there and consumers know it. They are seeking others' opinions in places that publish the most trusted reviews, like Hotels.com which ensures you've actually stayed at the hotel before publishing your comments about it.
Chris Silver Smith shares his tips on using semantic markup for Local Search.
There are reports of local pack results showing up for SEO-related searches, but I've not personally seen it. If you're a marketer, check for local packs in your area for your terms. If they appear for your area and you're not there, you've got some work to do, as you've probably not done much to rank well in Local Search.
Comscore tells us that as of November 2012, Google has a 54% share of the mobile market, Apple has 35%, RIM (Blackberry) 7.3% and Microsoft is at 3% and shrinking.
Ever tried to move your location on Google Maps only to find that Google had tagged your listing with a This place has closed message? Ugly, unwanted and- except in Google's eyes - untrue. Well, the message has been improved a little but not much. Now, it says This place has closed or relocated. The good news is that you can now try to tell Google where you moved to, which will, hopefully, get all of your reviews to attach to your new listing. In real life, businesses move locations all the time, but this seems very difficult for Google to grasp.
Checkout this message I found in a Yahoo Local account which pays for advertising:

Yahoo has added email and text messaging to phone and snail mail as a method of local listing verification.
Google adds phone support for verification issues
as announced by Mike Blumenthal:
Google is actually providing phone support when a business runs into verification issues. Just to be sure that you read that correctly, I will repeat it: Google is actually providing phone support when a business runs into verification issues. And not just phone support but support staffed (at least currently) by US based, English speaking personnel.
This is absolutely huge and has been a long time coming! Google has been deluding itself over the years that...
1. it doesn't have to provide much, if any, customer support for free products
2. everything can be dealt with via an algorithm.
Over the past year and a half, its thinking has moderated on these points and it's realized that there are business use cases that can't be resolved without human intervention. It has instituted various levels of human support, which have actually improved over time. Hopefully, we will soon be provided with additional phone support for help in resolving other sticky problems. Googler, Joel's Headley's team is largely responsible for this shift. Here's his response to the Local Search world's reaction to this news. Is Joel in your Google+ circles?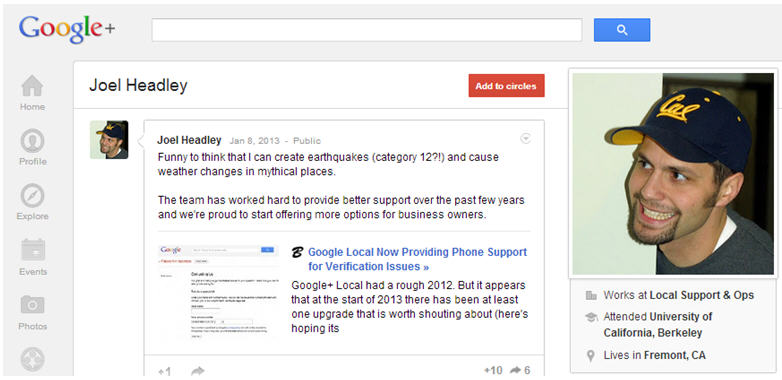 Canadian behemoth Yellowpages.ca is going after the mobile market north of the border in a big way
It has its own mobile app for finding local businesses that includes search via SMS, directions and mapping, a reverse phone number lookup, people search (white pages) and allows users to report errors in business listings and add new businesses. It tells us 30% of the searches done on Yellowpages.ca come through the mobile app.
It also offers other free apps, urbanizer - for finding what you want nearby you according to your mood - ShopWise Canada - for deals, coupons and shopping info ñ and Red Flag Deals ñ for deals, coupons and freebies. It's unclear what the differences are between the last two apps, but if your business is in Canada, pay attention to what these folks are up to and make sure your business is listed correctly on all of its apps.
Google's new coupon and loyalty platform,Zavers, is announced.
We're told it's the solution for larger retailers seeking to get the right offers in front of the right customers at the right times. Redemption tracking is also touted. For the consumer, it's supposed to give you a way to manage all of your coupons and offers from one place. Google has made several runs at the coupon space without much success. Maybe this one will take. You can see our update on this here:
Google Brings Paperless Coupons to Your Grocery Store
.
Yext unleashes Powerlistings+
, an improved product that enables businesses to add more rich data to their profiles across dozens of local platforms. This is a product to watch and try. I don't like some of their sales practices, but the platform works as claimed and can be very useful for certain types of businesses. Some of their partners now appear to be pushing those who want to sign up or update data on their sites to Yext to do it. This is also something that should be watched closely. What Yext is doing is what all Local tool makers envy and some are trying to get on a bus going in that same direction.
All signs point to incredibly shrinking categories to select from for new Google business listings.
Right now, this is only when you set up a new listing via GooglePlus, but that's where most new listings should be created going forward. We've seen clues of this coming for a while, but it's hard to imagine that an algorithm that is highly influenced by categories will improve as they become fewer. If you can still access a Places dashboard, I'd get all 5 categories I want in there NOW. You probably need to pay a little more attention to selecting all the categories that apply to your enterprise on influential third party sites from now on, too.
AdWords Express grows up a little and is now AdWords Express+. Some new features have been added to make it easier for people who know what they are doing to set it up for the best ROI. However, I don't think many SMBs do know how to set it up so that they are helping themselves to make money more than they are helping Google to make more money. But I guess that's the cost of quick and easy. (I think there may be a marketing niche for setting up AdWords Express accounts for low budget advertisers, if there's anyone out there that's not already too busy.)
It's very interesting that Google is promoting Express ads as a way to get people to go to your Google Plus page. Pay Google to send people searching for you (possibly by name, we don't know yet what the triggers are) to a Google page about you that you can't really control? That's crazy. Don't do it!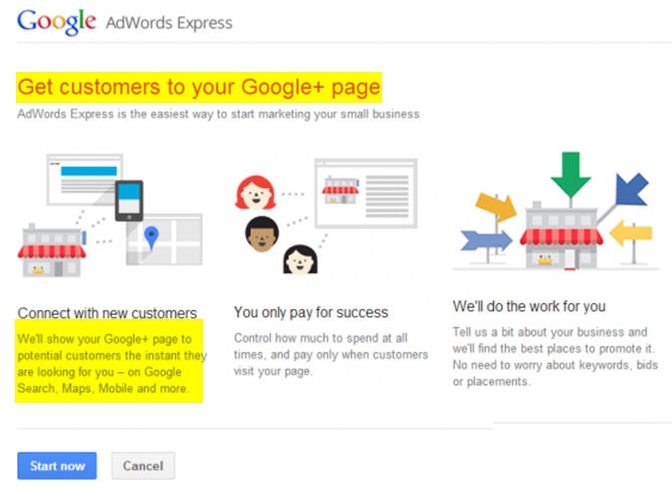 Marissa Maier of Yahoo says that Yahoo has not yet given up on Search.
That's hard to imagine when it doesn't even provide its own search results these days, but she does talk about partnering up with other companies, including larger competitors.
Google adds phone support for data problems
ñ things like name, address, phone, categories, at a glance terms and description. What a great stimulus plan for the economy and great news for Local Search marketers! You'll need to toggle the button that says you already tried the Report a Problem link (even if you didn't) in order to get the option to submit your name and phone number for a call back from support.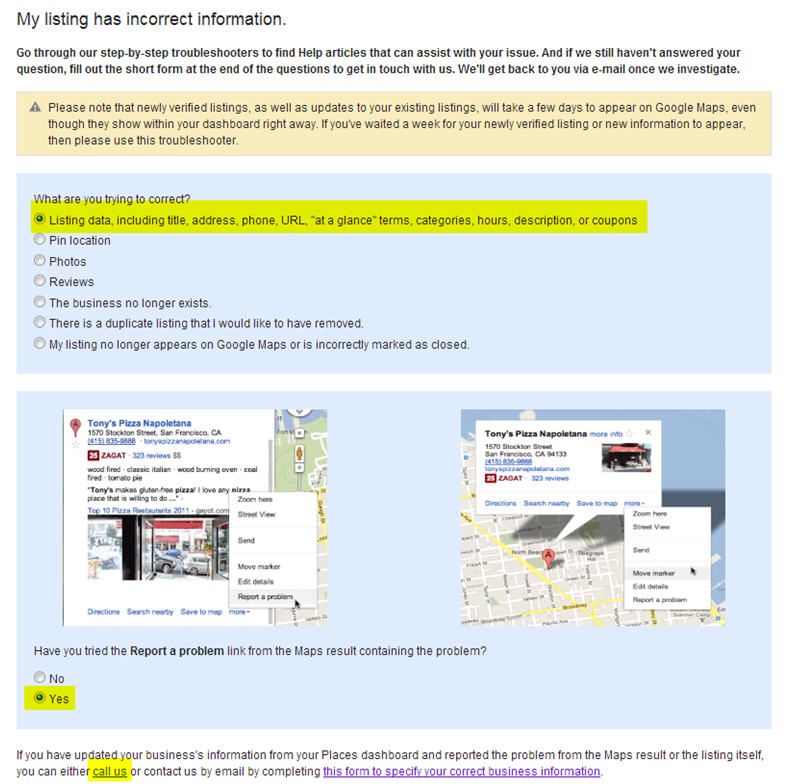 Mike Ramsey ends the month with a monster post answering common
questions about Local Search
.
---