What's New in Local Search July 2012
Bing takes a step back in the battle for socializing search with a social sidebar. This new strategy takes most of the social aspects out of the search results and puts them all together into the sidebar, but you have to be signed into Bing to see it. Right there if and when you want it, but not gumming up your SERPs and jamming other people's opinions into them. You know, sometimes, I just want to indulge in a good old school search all by myself.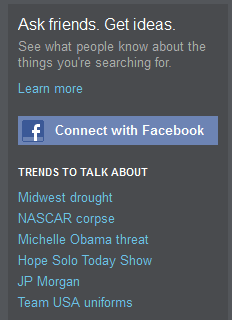 At the same time, Bing takes a step forward by partnering with Yelp to integrate snippets of Yelp reviews, photos and other details about businesses into Bing local business pages. Yelp has already partnered with the iPhone on local via Siri and this further fuels the competition for reviews between Yelp and Google. To learn more on this - check out more detailed update Bing's Local Results Now Powered By Yelp!
Google+ and Google Places become one. Local SEO's spend the first few weeks of June trying to sort out the implications of the merger and how we can use it to our advantage. The new UI is what initially gets most of the attention. But as we realize it's just a new way of displaying business information, we start looking more closely at some of the other changes that went along with the merger.
Local businesses lose their precious gold stars in the local SERPs as Zagat ratings take over. Businesses had benefited greatly from the increased CTRs and phone calls they received by having these attention-getters associated with their listings, so  complaints resonate through the help forum. The stars clearly communicated customer sentiment and rewarded good businesses for making their customers happy. They reflected the "real world" as Google says it's striving to do with local search, so why take them away?
First, Google wants to get more value from its purchase of Zagat by using its rating system, even if it doesn't really work for those outside of the hospitality sector. And second, in its obsession to crush independent review sites, Google allowed its rating system to become polluted by shills and malicious imposters. It does not go unnoticed that the stars remain in AdWords Express ads.
The 5th annual Local Search Ranking Factors Survey is released by David Mihm and his colleagues. Check Search Engines News for more on this topic.
Yext's Powerlistings expand to include 50 local search sites where businesses can gain good citations and get in front of more prospects via what we refer to as barnacle SEO. The price has not increased. While many of us wince at the nearly $500 a year per location price, it is proving to be a local search valuable solution for many businesses – about 50,000 so far.  Their free listing check tool is valuable for all of us.
Google says it wants practice/practitioner listings in the local index and they aren't going away. Too bad they don't work the way they are supposed to and almost always cause problems for those involved. The Goog needs some way to clearly associate practitioners with the business without the listing information merging AND it needs a way to flag the practice listing as the one that it serves up when searches are made for the business name and location. It also needs to give us clear guidelines on exactly what professions are eligible for these extra listings. Realtors, other types of sales people, automotive technicians, bank loan officers?
Several Google products for small businesses are about to be bundled together into a program that may or may not be called Business Builder and it could happen very soon. Rumor has it that it will include Google+Local business pages, AdWords Express paid advertising, Google Offers (which are apparently going to be mobile coupons), TalkBin SMS messaging, Google Wallet, an in-store loyalty program called Punchd and a new service that moves products from local stores to the customer.
Some of these products have been available to small businesses for a while, but each needed to be managed separately, which is nearly impossible for a SMB to do well. There's no doubt that Google+ will be the way that searchers see and interact with them and it's a pretty good guess that the Places dashboard will be where the businesses manage them. Hopefully, the package will come with some decent support, but I'm not holding my breath. I also suspect that it will somehow tie in with the new paid version of Google Product Search, Google Shopping.
Kikscore, a new acquisition, is also likely to be rolled into Business Builder and Google Shopping. The service provides emblems of trust (Trust Seals) on websites for small businesses that sell products both on and offline, including one specifically for service businesses (Service Seals).  A click on a seal takes the prospective customer to information about the history and ownership of a business, customer testimonials, shipping and privacy policies, credit ratings and more, all of which is wrapped up into a real time Trust Score for the business.
The number of listings lost in the integration of Google Places to Google+ is mind-boggling and, if you're one of the businesses affected, it's somewhat terrifying, as well.  It appears to have mostly affected home based service businesses. Google admits it's a technical glitch and says it hopes to have a solution soon.  Here's  a typical email response from Google regarding this:
"Thanks for getting in touch with us about your listing not showing.
Unfortunately, your listing may have been dropped due to a technical issue that we cannot yet resolve. We hope to have a resolution soon for this issue, at which point we will be in touch with next steps to help you return your business to Google Maps."
The drama at Google+Local intensifies as Google still fails to resolve the issues of lost listings. So many businesses receive the dreaded We currently do not support the location messages that it's impossible to tell which are experiencing minor technical glitches that will quickly resolve, which listings have been purposely eliminated by new algorithm filters and which are gone forever.
When Google publishes it's "resolution", it involves stumbling around in MapMaker, a platform very few SMB's have ever heard of.  Not many SEO's and agencies have earned their chops there, either. Sadly, this is an epic FAIL in customer service for a company that already has a bad CS reputation.
To add to the customer service nightmare at Google+Local, 2 recordings of calls from Google to check business addresses are made available on Mike Blumenthal's blog.  As you can hear for yourself, using people who many of us cannot understand (and who may not understand us well, either) to make these calls is simply lame. The scripts they are given invite suspicion, as well.
ConstantContact enters the local deals space, with the built-in advantage of knowing email marketing inside and out and a stable of businesses who are already sold on the value of email marketing and have client lists. These facts also work against it, as the model appears to mainly target existing customers rather than attracting new customers.
Google only managed to rank 4th in the battle for data accuracy in a study by Implied Intelligence. Who rank 1, 2 and 3? Yellowbook, Superpages and Bing Local. Google has the most data from the most sources, but data accuracy is a decisive factor in choosing where you go to look for actionable business information – what's the phone number, where are they, when are they open, which credit cards do they take, etc? Maybe Google has moved too far away from trusting the information it gets from the business itself and moved too far into allowing others to strongly influence what it publishes about an enterprise.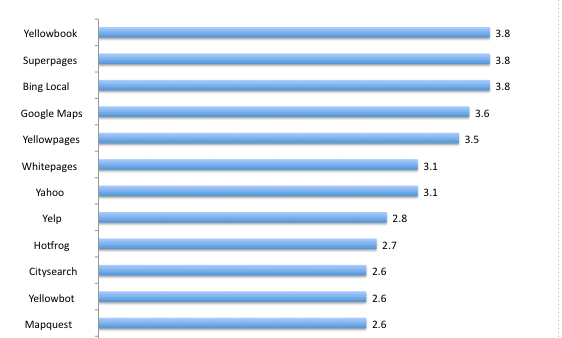 There's an increasing demand for marketers with SEO skills as indicated in this news from Conductor. Google is certainly doing its part to increase the demand for those with Local SEO skills.
CitySearch's website becomes more social and more easily digested by mobile viewers. It now features a super-easy thumbs up and thumbs down rating system for users along with reviews by expert scouts.  Its stance is that "The sheer volume of opinions being expressed by customers on review sites is deafening." , so it's taking a different tact. I can't say I disagree, but I'm not sure I want to rely on the opinions of hand-picked people who appear to have a level of influence beyond even that of Top Yelpers. Does the combination of user ratings and expert reviews smell a little like Zagat to you?
Google unveiled several new elements for local on mobile at its Google I/O conference. One is a Siri-like search assistant who speaks to us in a female voice. A second is the presentation of highly structured data about businesses appearing as information cards. Hopefully, the information is accurate. This is an indication that data presented to the Search Engines in Schema format is about to become even more valuable in local search.
Some of the lost business listings are now coming back as announced by Googler Jade (Vanessagene's replacement) in the help forum . She advises those still not seeing their listings to check the Quality Guidelines for compliance. In other words, maybe your listing will come back and maybe it won't and we're not going to tell you which you can expect. Why can't Google just tell people what's wrong with their listings? Most people would quickly correct their listings if they only knew what the problem was. In most relationships this would qualify as passive-aggressive behavior, but Google either doesn't see that or isn't concerned.
---