What's New in Local Search June 2012
Googler Vanessa Schneifer (aka Vanessagene) begins a weekly "need to know" video round up of important things happening in the help forum available via YouTube. Two videos have been released:
http://www.youtube.com/watch?v=Hp30pGhveJE&feature=relmfu
http://www.youtube.com/watch?v=bO5wd2fl2Vs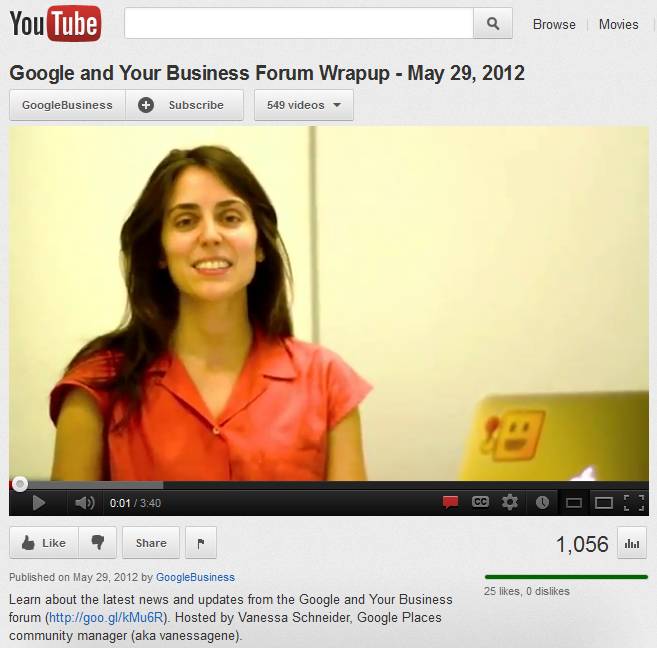 An epidemic of We currently do not support this location messages show up in Google Places, making the help forum buzz with confusion and complaints Google admits some of them are bugs, but also tells us that some messages are legitimate and are the result of quality guideline violations. However, you're not told whether your message is a bug or a punishment.
Account suspensions and listing suspensions are rampant in Places over guideline violations. Read the guidelines again. You know they change. Check your listings again. Are you in compliance? If not, get there, or you may be forced to start all over again. People holding listings for multiple clients in the same account are particularly outraged when the whole account gets suspended. Don't be that guy. Your clients will not understand if you tell them their listings are gone because of another clients actions. Move all client listings into their own accounts, preferably with a domain-associated email address.
There's a new interface for Offers (coupons) in Places dashboards, but the big news is that Offers now only appear on Android mobile devices and apparently that's the way it's going to stay. At the same time the ability to make offers has been taken away from the rest of the world and is now only available to US businesses.
The bug resulting in unwarranted "We currently do not support this location" messages in Places dashboards has been fixed. So if you are still seeing this message when you try to view your listing from within your dashboard, then you have another problem that needs to be resolved. Look at the sticky posts at the top of the help forum page to get ideas of what may need to be done.
Facebook coupons (aka Offers) become a reality, allowing businesses with "local business" pages to create coupons for their fans who can then share them with their friends. The coupons are redeemed at the physical location of the business, helping to more easily track ROI from Facebook marketing.
Google Places bulk uploads (for 10 or more locations) have been re-launched in an improved tool that will make managing multiple listings easier - at least that's what we're being told. The process has been very slow and painful lately so it won't take much to improve it. All bulk uploads go through a human review process, which is certainly good to know.
Google reveals a business listing best practice that has up until now been a secret. Ta-daaah: Put your street number and street name in address line 1. Put your suite number in address line 2. However, this conflicts with the way suite numbers are entered in MapMaker, which is causing some weirdly-addressed duplicate listings to show up. It the ones I've seen, it has also caused the Map pin to appear in an incorrect position on the Map. If MapMaker edits are going to have so much influence in Places, the 2 need to sync up a little better.
Facebook Classroom launches with a series of free live and on-demand webinars designed to help businesses get the most out their presence on the social media behemoth's platform. Check the offerings and schedule out here: https://www.facebook.com/marketing/app_210703889028624
Facebook redesigns their ad creation tool – yet another improvement aimed directly at business owners and marketers.
Universal Business Listings removes the option for a cheap basic listing and adds a high priced package that includes submissions via Yext. If you don't recall, Yext gives you a single listing to manage that then pushes your info out to multiple directories either instantly or within a day. These are paid premium spots in the directories, which explains the relatively high cost for the service. I have been reluctant to use any of UBL's services lately, since I have had poor experiences with their "just wait for us to call you" form of customer service.
Business owners experience a multitude of issues in not being able to respond to reviews on Places. Some of them are caused by the revolving listing ownership problem, which can be resolved with a listing poke, but some of them may be due to bugs.
Users can now view their entire history of Foursquare check-ins. Exactly why you would want to see your check in history may escape you, but there have been more than 2,000,000,000 – yep 2 billion – checkins. So either a few people check in like 50 fingered maniacs or a lot of people are using Foursquare. Since Google is instituting check ins, I suspect it's the latter. If you have a local business, it's time to check out check ins.
Google+ posting can now happen on your time schedule via a Chrome extension dubbed Do Share https://chrome.google.com/webstore/detail/oglhhmnmdocfhmhlekfdecokagmbchnf
Microsoft adCenter upgrades its ad location targeting and makes it more like that of other ad platforms. IMO, adCenter should morph into something that matches AdWords as closely as it possibly can, so that there is no barrier whatsoever to using it. There is no point making it different just to be different if that confuses users or would be users.
The widespread use of Google Maps on the iPhone has been an embarrassment to the Mac world. (Maps is the second most popular iPhone app after iTunes) So the rumors that Apple will replace Google Maps with its own map product with the release of its iOS 6 operating system are no surprise.
The Google Places API now allows developers to have app search results ranked strictly by distance – the 20 closest results will be served up, regardless of location popularity or prominence. This will take away some of the power of ranking well in Maps, but will make more sense to humans who are actually looking for the closest business that can meet their needs, such as an ATM or a gas station or pharmacy.
You can now schedule Facebook posts in advance the way you can schedule your blog to publish posts at the days and times of your choosing. This makes it a bit more scalable for marketers to help business owners via Facebook. Along the same line is the introduction of admin designations – who can do what on a Facebook page. This feature also signals that Facebook acknowledges that marketers are playing an ever increasing role on its platform and is trying to better accommodate them.
The Places business listing quality guideline regarding PO Box addresses has changed yet again. You must now completely remove any PO Box address information from your Place page. If you are forced to re-verify after doing so and cannot do so, you then have to contact Google support for assistance. What's most amazing about this particular change to the guidelines is that Google has emailed claimed businesses using PO Box addresses explaining the change and the steps to take. This is yet another reason to make sure you are monitoring the email accounts you've used to set up Places listings.
Of course the biggest thing to happen in Local Search is the merger of Google Places with Google+. I haven't heard anyone say they think it is for any reason other than to force more people onto Google+. And we all will be forced to play there if we expect to gain any benefit from customer reviews. While one of Google's obvious intentions is to cut down on fake reviews, the true result could be just the opposite. Think of it like gun control, which works well to keep guns out of the hands of everyone except the outlaws. The best news regarding Google+Local is that businesses that have Google+ business pages and Place pages don't really need to do anything to facilitate the transition. However, those without Google+ a business page should get one immediately and start getting the lay of the land.
The new Google+Local comes with Zagat reviews and the Zagat 30 point rating system built in. While this may be appropriate for upscale restaurants or resorts, I see very few people taking the time to rate all those factors for most businesses, and for many types of businesses, it may be totally off the mark. Does the décor of a welding shop, for example, really have any impact on your decision to go there? I imagine this rating system will evolve over time to be more useful for most types of businesses and hopefully, a simpler alternative will be offered, especially for reviewers on the move with their smartphones. The future of the visible star ratings in local ads and search results is also an unknown at this point.
Microsoft's new social network So.cl's launch was much quieter than the Google+Local announcement. Given Bing's social sharing connection with Facebook, it seems unnecessary and redundant, but perhaps, like Google, it has bigger social plans in the works.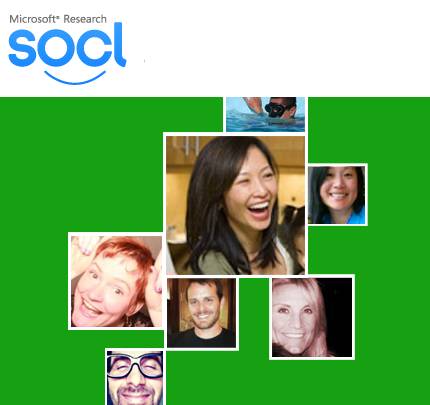 ---