What's New In Local Search March 2012
Bill Slawski analyzes a 2004 Google patent regarding geographic location that gives us more clues as to how to structure a website for local search. This talks about your rankings being help by having a location within a cluster of like businesses that's well worth reading.
There's an online uproar regarding Bruce Clay's Paid Inclusion announcement and quite a bit of speculation regarding what it was/is exactly. I think it was/is something akin to the Yext Power Listings, which seem to be enhanced local listings that are distributed to partner sites. We still don't know for sure, but here's Bruce Clay's side of the story.
Proximity Lockout eases in Google Places. After seeing increasingly smaller areas on the Map where businesses ranking in Places could be located, the areas suddenly increase. This allows more of the businesses outside of a city centroid to rank. However, at almost the same time, the number of local results shown for organic searches randomly decreases from the usual 7 to 3, 5 or 6 for many queries. Many ranking changes are due to strong competitors being allowed back into the Local packs.
Google consolidates info in your account. Although the Places box appears in some accounts, Places isn't in really integrated yet and you have to look around to find a link to it. Hopefully, we can start seeing more information specific to Places in Google Analytics and Webmaster Tools when this shift is complete. This is also an impetus to start getting all of your Google "stuff" and all of your client's Google "stuff" into a single account. Google gives us the ability to have multiple logins to these accounts, as well. Apparently, Places integration is closely tied to privacy and the mobile web, which may be why we're not seeing progress in that area. In some accounts, it's hard to even find the link to go to your Places dashboard anymore.
The number of cities where Google Offers are available climbs to 40 and Google partners with other deal makers to expand their selections. There are no new Google City Pages and the count still stands at 6: Austin, San Francisco, Portland, Madison, Charlotte and San Diego.
We get the ability to edit Places listings – yes, even owner verified listings - directly through Mapmaker. Some of these edits are being approved very quickly and the changes show up quickly, as well. Others are instantly rejected and no clues are given as to why. If you are into Local, you need to become comfortable with MapMaker, now!
Google tells us PO Boxes are acceptable to use on the second address line in Places then takes it back the next day. Reports circulate that it is possible to circumvent post card PINS going to the physical address and have them go to a PO Box instead – even a PO Box in a different city or state (but not in a different country). This is a great example of why you should not instantly react to changes at Google.
Rich Snippets for concerts and tickets now appear in the SERPs associated with the performers' websites. (Not the ticket seller's website.) So, rich snippets marked up on one site can be displayed in the search result for a different website. Keep an eye on this trend. It could present some powerful opportunities to early adopters.
Google flags and deactivates Places offers (coupons) that aren't really special and sends out emails to those affected. Your coupons on Places must be something that you do not ordinarily offer to everyone. If it's something you ordinarily publish on your website, like a free consultation or 20% off for new customers, it probably isn't going to fly as an offer anymore. It's become very important to regularly check the email account that's associated with your Google account. Useful communications from both Places and Webmaster Tools may be awaiting you attention there.
Owner uploaded photos disappear from many Places listings. In the Places help forum, Vanessagene says it's a bug that they are working to resolve. While listing owners can only upload 10 photos, users can upload many more and most of them will appear in the listing. Get more photos by uploading them as a user!
Descriptions disappear in many of the local listings displaying in organic results. It's widely believed that Google will be placing Search Your World info in those new white spaces.
MapMaker spam fighter, Dan Austin, speaks out about the problems with over-aggressive marketers thriving in this crowd sourced system. Read this for some valuable insight into the workings of Google MapMaker.
Enhanced site links come to AdWords, allowing the top bidders to own a huge piece of real estate above the organic search results. If you use these you can expect higher CTR and fewer bounces, since searchers can be prompted to go directly to a page that meets their needs. However, any advantage the higher CTR might give your Quality Score may be negated by normalization. If you are doing AdWords, give this a try, but remember you have to be one of the top 2-3 bidders to get them.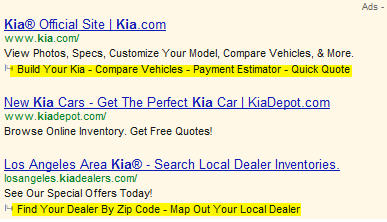 Bing, Yahoo and Google announce support for Schema.org video markup. Since videos and the pages they appear on are often not well optimized, this could be huge. Jump on board now to give your video-rich site an edge in the SERPs with rich snippets.
Search at Google Earth now looks more like other Google searches with a more streamlined interface and more integration with other Google "stuff". Google announced the goal of intergration and standardization across their products about a year and a half ago. Now, it is swiftly taking shape.
David Mihm's extremely useful Local Search Ecosystem charts have been updated for 2012 at his site. Make sure you print out the latest version and keep it handy.
Bing tests how and where local results appear in the SERPs. Many variations are seen in the wild. We're used to seeing this continually in Google, but not so much in Bing. It's nice to see they still care about Local Search.
The high costs of a Maps API is causing some users, like Foursquare, to consider other mapping options like as Openstreetmap.org. Smaller groups are finding it difficult to even get a Maps API and some apps developers are looking elsewhere for maps info, as well.
Google's little used check in service, Latitude, got a few enhancements in Feb with a Leaderboard and a points system. Perhaps this signals renewed attention to check ins now that Facebook owns Gowalla. It's probably one of the better social signals they could care about.
The search feature in the Google Places help forum is badly broken. Word has it that it will not be repaired since they will be shifting onto a different forum platform, instead. Other forums, like that for AdWords have already shifted to the new software. Google then publishes a message at the top of the main help Places help forum page that they are moving it to new software.
Googler Vanessagene admits that there are a lot of problems going on with photos and that it could take several weeks for changes you make in your photos to appear in the listings.
Microsoft AdCenter now allows the addition of location extensions to ads. These allow your ads to appear with your address and phone number in both Yahoo and Bing search results. Near the same time, AdCenter's geo-targeting changes to mimick that of AdWords. In my opinion, they should make it as close to AdWords as possible, since it's time consuming to keep up with things that work differently between the two platforms.
Google's announcement of recent updates includes a "new system to find results from a user's city more reliably. Now we're better able to detect when both queries and documents are local to the user." We can only imagine what this is, but local rankings have really been jumping around for the past few weeks, so it's definitely having an impact. It sounds liek this one will go down in internet history as the Venice update.
It becomes impossible to read beyond the reviews displayed on the first page of a Places listing. We're told this I yet another Google bug. It's typical to see numerous, persistent bugs just before big changes in Places, so don't be caught by surprise. Constant change is normal in Local Search.
Comscore, Localeze and 15Miles release a new study on local and mobile search that's chock full of the kinds of juicy stats we all love. Don't miss it! They also published a sweet infographic on The United States of Local Search.
SMX West in San Jose offers a few sessions on Local Search that were very well attended. I was on the one labeled Solving Problems and Seeing Success in Google Places . The second was Hardcore Local SEO Tactics. Both are well covered by Bruce Clay's live blogging team.
LocalSEOGuide, Andrew Shotland had his Places listing suspended after receiving a phone call from Google asking about his "place". Since SEO terms do not usually pull up local results, this didn't really hurt Andrew much, but these calls from Google can be the kiss of death for some service businesses, those working from home and those using remote office locations. If you have clients in those buckets, warn them and coach them on how to properly respond to calls in order to avoid a similar fate.
---