What's New in Local Search – August 2011
Business profiles. While you've been able to create your own blog and/or website on Google for years, it is now touting that it will enable Business profile pages on Google+ at some point. It's not surprising that the Goog is trying to emulate Facebook again, is it? The big question is why do businesses need both a Place page and a Google+ business profile? We'll find out soon.
Business Profiles Update: Google is creating demand for what is essentially an unknown product. It has twice opened up requests to be in the test group for business profiles and both times the response was massive. At the same time, Google is quickly closing down unauthorized profiles for businesses that have already been created. Hopefully, Google will get a good handle on exactly what it does and does not want to see in business profiles before the spammers get a strong foothold. Curiously, Christian Oestilen, the ads manager for Google+, is the Googler making announcements about business profiles. I wouldn't be surprised if this product comes with a price tag, which answers my previous question of why a business needs a both a Place page and a business profile.
Jeff Huber the VP of Local and Commerce at Google is engaging with the Local Search community via Mike Blumenthal. This is a good sign that he's actually interested in improving Places and other offerings aimed at small businesses - or at least he's going through the motions. He hasn't really been asked any hard questions yet, so time will tell. I think the most interesting thing about Jeff so far is his title, VP of Local and Commerce, what does that tell us?
Google+ is the Google news this month, and for good reason. The mash- up and interconnectivity of a plethora of new social services has everyone's attention. It's clearly competing with check-in services (Foursquare, Gowalla), social networking sites (Facebook, MySpace), live chats (Twitter) and group video chats (Skype, GoToMeeting) on top of already competing with Groupon, Yelp, travel consolidators (Expedia, Trip Advisor), local directories (CitySearch, Kudzu), event promoters (Zvents), Internet Yellow Pages and on and on. It's looking more and more as though Google has thrown down its don't-be-evil gloves and is swinging at every big social player in the quest for more revenue. Maybe Google wants to make as much money as it can before congressional hearings temper this aggression?
Tulalip. Bing rarely has much news of interest in Local Search, but it appears to quietly priming us for a new social network called Tulalip (Tulalip? Really? Google it!) The Microsoft-registered domain, www.socl.com, was spotted with this message on it:
With Tulalip you can Find what you need and Share what you know easier than ever.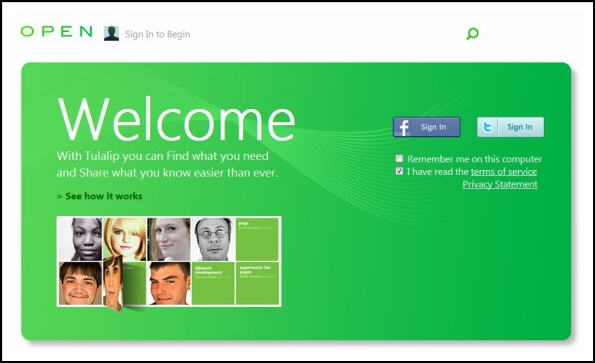 However, that message was quickly replaced with this one:

With Bing's relationship with Facebook http://www.facebook.com/ blog.php?post=437112312130, such a thing is certainly not out of the question. But can/will Bing and Facebook make something exciting happen before everyone becomes addicted to the Google+ koolaid?
Google's What Do You Love was announced mid-month without getting much attention, but it's definitely worth a peek. At first glance, Google seems to have simply stuck all things Google onto a page with a search feature because it can, but there may be more to it. (Link to July blog post What Do You Love)
Google Takes Texas http://www.texasgetonline.com/ with events in Austin and San Antonio designed to get more small businesses online with free websites. This article http://www.statesman.com/business/google-helping-small-businesses-in-central-texas-get-1621963.html from The Statesman will give you clues as to what you might expect in your city, too. (Several months ago Google put on a similar program in NYC.) There are also some good stats in the article.
The Google Places interface changes, strongly emphasizing Google reviews and pushing the reviews from 3rd party sites, like Yelp, out of the spotlight. Citation sources also disappear from Place pages. There's wild speculation about what this means, but most Local SEO's agree that citations and 3rd party reviews still figure into the algorithm, even if Google has decreased their visual prominence. Unfortunately, this will likely increase the amount of review and rating spam on Google.
Business Descriptions disappeared from Google Places. Google's assuring us they will reappear and says the reason is that they "just pushed a new listings index", which is the real news here. Expect changes in the rankings!
Place Page More Details also do a disappearing act. This time, Google assures us they are still using the info in the algorithm, but do not assure us it will reappear. Perhaps More Details will become a part of the new Google+ Business profiles and you'll have to pay to have them appear on your Place Page. Sounds like Yahoo Local, doesn't it?
Another Business Profiles Update: Google announces that it is trying to release the new Google+ Business Profiles to all and is trying to get it done within the 3rd quarter of 2011. That's the end of September! Business Profiles that have already been created for brands are being- or have already been-removed and we are told that there won't be any easy way to migrate Google+ profiles. That pretty much leaves us all without much to do for businesses on Google+ until Business Profiles are released.
Photos and Street View images begin reappearing in the Blended Local results as part of Google's push to show more info from Place pages across the Google network. Photos are also back on Place pages, with a lot of images pulled from 3rd party sites.
Owner descriptions are back on many Place pages, too.
Google has recently talked about making Place pages cleaner. (http:/ /google-latlong.blogspot.com/2011/07/ongoing-evolution-of-place- pages.html) It's hard to tell what's going on, but I'm beginning to think this uncluttering of the Place pages may be to make them more attractive and usable on mobile devices. Look how the Calls to action (Write a Review, Upload a photo and what will surely be a click to call phone number) have been prominently placed at the top of Place pages and the other information that searchers are most likely to want is also at the top of the page. Then, it's a short scroll down to see the more photos and reviews.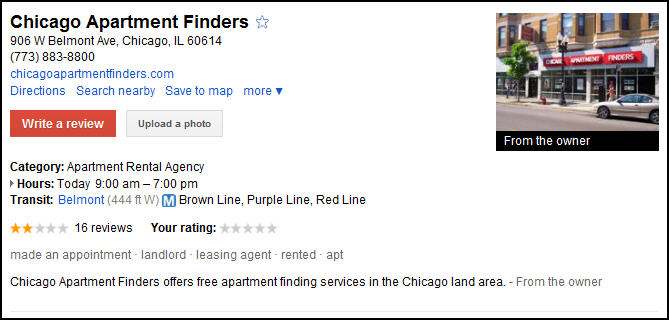 This would also explain why the More about this place (citations) are gone. I think SEO's were the only one who looked at them, anyway. However, I think the Additional details can be very helpful to viewers and am anxious to see where they end up.
I'm sure Google has plenty of Local Search surprises in store for us in August, so stayed tuned for more here next month.
---