What's New In Local Search December 2011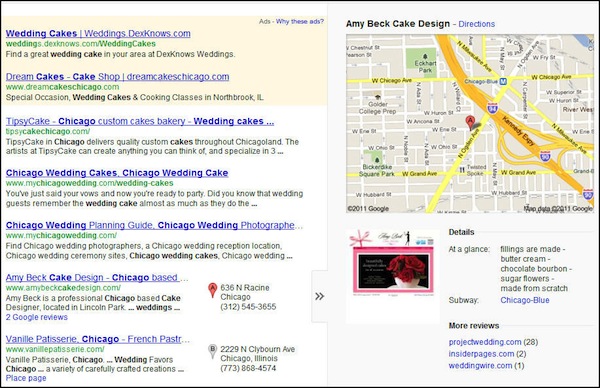 Some of the tests we've seen with the display of Google's local results in the SERPs become standard across most of the country. This includes gray map points that turn red or blue as you scroll over them, an altered Map on the results page, a change in the look of one-boxes and other changes that seem minor when considered on their own. However, the sum total of these changes furthers the standardization of the Search Results that we were promised about a year ago. I find the flyout previews to be a rather significant– it's quick way for Google to show more local information without eating up more real estate on the page and to highlight the business's Place page at the same time. Overall, I think this is good for businesses and for searchers. It's prompted me to revisit the Place pages I'm responsible for and make certain everything is in order.
The amount of hidden data in Google Analytics increases dramatically, with many websites reporting it's up around 10%. Some site owners are seeing a 30% loss of data. Of course, there is quite a bit of controversy as to why all the data is still available with AdWords and why privacy doesn't matter when paid advertising is involved.
AdWords provides new performance reports by user location, allowing you to easily segment your paid traffic and manage it more appropriately.  But pay attention because it may not work the way you expect it to. The reports segment searchers within your target area from searchers not in the targeted geo location but exhibiting search intent for the location you targeted. It's a confusing idea, but makes more sense once you see it inside your account.
Google+ for Businesses is released in conjunction with one of the biggest advertising industry conferences of the year, AdTech New York. Webinars are also held at the event, introducing marketers to using Google+ and Hangouts to promote brands. Google created a great deal of pent up demand for this product by withholding it from marketers, so the initial surge of businesses getting into Google+ is not surprising. Big brands jumped in a big way, but many of them were probably included in the beta. It seems like Google finally got a product launch right. Now, it needs to find ways to sustain the momentum.
AdWords location targeting via polygons is going away at the end of 2011. Change over to either targeting by radius around a location OR targeting by the Designated Marketing Areas (DMAs) in Google.
Google Offers claims to roll out to the entire US. For many of us, they are online Offers only, not offers for your own location, but more cities get local Offers, as well.
GoMo is unveiled with a Mobilizing Mobile event in Mobile, AL. It's goal is to get more businesses to create mobile versions of their websites. It appears that it will work much in the same way that Get Your Business Online does, only offering free mobile websites rather than desktop websites and including free hosting for a year. Leapfrogging small businesses directly into mobile sites is a brilliant tactic that can stimulate more mobile advertising for Google. It's also something that marketers in industries where mobile devices already rule, like restaurants and movie theaters, may be wise to consider.  Check out the GoMo Google initiative.
Google buys Katango, an acquisition aimed at seriously upgrading Google+'s social algorithms, which it needs in order to do a credible job of competing with Facebook.
Google starts placing ads within the bubbles shown on the Map in Google Places results. Small businesses naturally think this is a stinky, extortionist tactic aimed at blackmailing them into buying  AdWords advertising to keep their competitor's ads from being associated with their listing. It is. And we are again reminded that Google owns the game and the game is all about money.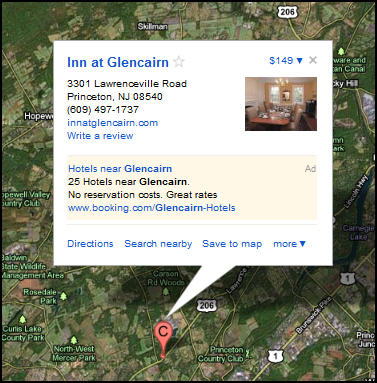 Bing Deals is rebranded to MSN Offers, which doesn't seem like it will matter much to anyone other than Bing, maybe.
Google Plus pages begin showing up as citations related to particular businesses and Google Plus icons begin appearing next to blended listings in the search results. When you click on the icon, it prompts you to add that person to your circles.

Google begins running TV ads for Google+. It's obviously trying to increase the number of consumers using Google+ in order to attract more businesses to Google+, which will attract more users and so on and so on.
As the month rolls on, the Google+ box pops up in other Google properties across the web. Expect this trend to expand rapidly across all things Google.
Google Think Insights is now available to all. This cool tool provides marketers with information and resources regarding search trends. It's not as good as having all your referral data in Google Analytics, but check it out. I'm willing to bet you'll find something on here that will wow you.
Google's GetYourBusinessOnline continues to roll across the US, with events in Utah, New York, Michigan and other states as well as in other countries like India and Canada. This is obviously working out well for Google as far as ROI is concerned and has prompted it to hold similar events such as MapUps and GoMo.
London now has its own Google community manager. Her twitter handle is @GoogleLondon and her name is Sara Drinkwater.
Your My Places tab on Google now highlights the businesses you have rated and reviewed, personalizing your Google Maps just for you. Other places that Google thinks you might like based on your ratings are shown, as well.  This introduces a new level of recommendations given to you by Google which do not necessarily come from your circles. Are we seeing the beginnings of a Bing-like decision engine?
Google launches a limited API for Google+, which is supposedly aimed at getting developers to integrate Google+ into third party websites and browser plugins. The next phase will likely be aimed at app developers in a push to get Google+ integrated into as many mobile apps as possible.
Google's Portland City Page has a toolbar PR5. All the others now sport a PR4 on my toolbar. Not bad cosnidering a few of them had no PR a couple of months ago.
---