What's New In Local Search – July 2011
What's New In Local Search – July 2011
AdWords Express is the new name for Boost, Google's automated AdWords product designed for small businesses. Once a business has created and claimed its Place page, Google uses information on the Place page to set up and automatically manage its ppc advertising according to the budget given. Other companies have been using automated rules to inexpensively manage ppcs for years, that it's surprising it has taken Google so long to get into this game.
hReview microformatting on a business' own website is beginning to pay off. There are reports that some of those marked-up testimonials appearing as reviews on Place pages. You probably publish comments from happy customers on you site already, so give the hReview microformat a try or use Schema.Org's new review microdata, the next generation of structured data.

Bing began integrating Facebook friends into the SERPs in the US as part of their overarching mission to be a decision engine. Just sign into Facebook in one browser tab and search in Bing in another to see this "friend effect" in the results. You'll see information about people and their Facebook likes as they relate to your queries. Links are provided to add people as friends and to send them a message right from the SERPs. Bing has done a good job of using the friend effect appropriately for travel, shopping, people and other types of queries. Do some searches for your best keywords and see how this might influence searchers looking for what you do where you are.
Cost per lead AdWords campaigns are being tested in display ads with "communications extensions". The searcher may request a phone call or an email from an advertiser. Google says the advertiser will not be given the direct contact information of the requester. The real challenge is convincing searchers of that.
City Portals are spotted in the wild. These are Place pages about particular cities that feature local business directories. Look for an in- depth article about City Portals in the August issue of Search Engine News.
Google Offers, a daily deal product, is rolled out in beta in Portland. The first offers are for restaurants and coffee shops. Subscription is available through a tab on the Portland city portal.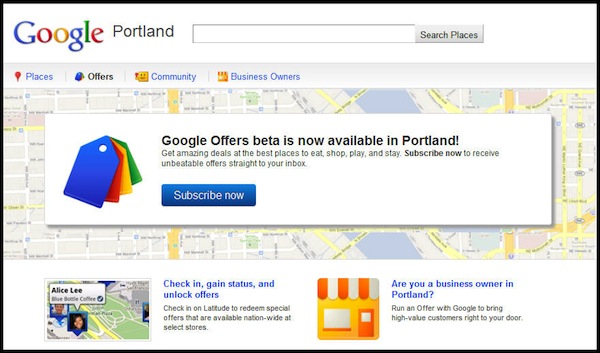 Reviews and ratings continue to become more social on Google. For example, Places users can now hand out up to 10 Best Ever medals to businesses. The number of medals a business gets appears in the SERPs and users can see the places their friends have given metals to.
Two types of mobile specific ads are now available in Canada through the Yellow Pages Group. One allows you to buy your way to the top of the IYP pages. The other is aimed at brand-building for large advertisers, allowing them to appear on all pages for relevant categories.
Descriptive terms debut on Google Place pages. Google tells us they are" the phrases which are most frequently used to describe those places. These phrases come from sources all across the web, such as reviews, web pages and other online references, and they can help people quickly identify the characteristics that make a particular place unique." Like most new Google things, these are certain to be abused by over-zealous internet marketers before the Search Engine gives us any clear direction on them.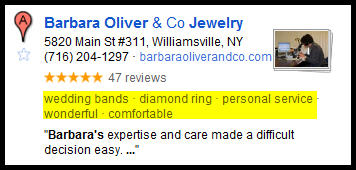 Automated rules in AdWords are now available to everyone. You can now accomplish some of the simple, routine tasks in your AdWords campaigns by creating rules to help manage bids, budgets and the status of your campaigns and their parts. This can make managing small local accounts much easier and less time-consuming and may allow SEMs to compete better with AdWords Express.
Carter Maslan, the public face of Google Places announced he is leaving the company. Google has done a lot of restructuring in Local and Mobile over the past 6 months. Hopefully, Maslan will be replaced by another small business advocate.
Experimental NFC stations are placed at businesses near Google's Tokyo offices. These are meant to encourage quick and easy reviews and ratings via the NFC-enabled mobile phones that are already widely used in Japan. Google has a huge stake in getting people to review and rate Places directly on Google and this is clearly an effort in that direction.
Behavioral targeting in AdWords is now available to all, allowing you to place your ads in categories. Ads will be shown to searchers whose browsing history tags them as being interested in those categories. There are thousands of categories to choose from. For example, if you do pet boarding, you'll want to make sure you have placed your ads in the pet cat and pet dog categories. Combining geo-targeting with behavioral interest targeting will likely result in fewer clicks, but more customers. Experiment with it in separate ad campaigns to see how it might best work for you.
A New Google Maps interface is being tested, along with other Google UIs. On-going experimentation in what we see on Google has become the norm.
Google+ debuts, adding a social layer to nearly everything Google. This is clearly a stab at the Bing/Facebook alliance and Google has a lot riding on its successful adoption. There are a dizzying number of new features that make up Google+. Circles allow you to selectively share and interact with others. Sparks allows you to create RSS feeds about your interests. Huddle gives you a place to group chat with those in your Circles. Hangouts lets you meet up live with your Circles via video. And there' more! Some of this will be widely adopted and some will fall by the way side, but overall it is a huge improvement over anything social that Google has ever done. Check out the features to see how they might help your business grow!
---