What's New in Local Search – June 2011
Hotel booking via pay-per-click ads is now available directly from the SERPs from both local pack and blended listings. It's not clear just who can advertise in this way or how you can participate, so it is probably a test that will either expand or go away when Google fully implements the ITA technology. Lodging properties should be certain they have an easy-to-use online availability and booking system prominently displayed on all pages of their websites. If I were working in that space, I would be strongly considering promoting a "low price guarantee" to try to capture more direct bookings.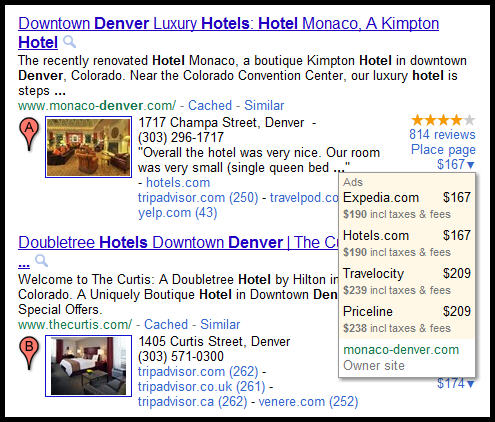 Facebook announced Social Deals. Unlike the check-in deal coupons Facebook still offers, these are not free. Facebook Social Deals include features that counteract some of the merchant complaints about offering Groupon-like deals, such as an upper limit on the number of deals that can be sold. Other local networks, like Open Table, will place their deals on Facebook, as well. These are "Social Deals" because they can be shared and liked throughout Facebook networks. Buyers may use credit cards or Facebook credits to purchase their deals.
Google is continuing to promote free AdWords phone consultations along with an offer to set up your first AdWords campaign for free. Yes, Google is now competing directly with SEM professionals, so it may be worth your while to think about doing something similar in order to gain local business clients in your area.
Over 50% of Maps usage now comes from mobile devices, according to Marissa Mayer of Google. This has grown from 40% just 2 months ago. Mayer also reiterated that mobile is where Google is focusing its local efforts.
The look of Google Place pages changed slightly during May. The most notable change was the addition of a second set of links to big review sites closer to the top of the pages. Google may just be throwing a bone to those sites, many of whom argue that their relationship with Google is unfavorably lopsided.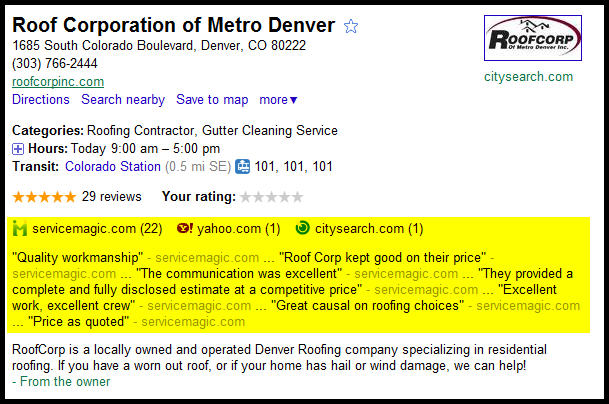 Google Store Views have now expanded into Google Business Photos, a service where Google provides professional photographers to take pictures of businesses which are then added to their Place pages and can be used elsewhere on the internet. Right now, you can apply to have photos taken of your own business if you are in San Antonio, Phoenix, Orange County California, St Petersburg or the San Francisco Bay Area. put link here:
https://services.google.com/fb/forms/googlemapsbusinessphotos/ Get on the list now!
Bing bought Skypefor $8.5 billion. With Google Voice in its back pocket, we can only imagine the far-reaching plans Google has for pay-per-call, click-to-call and call tracking. Perhaps Bing feels it needs Skype for the same reasons. In addition, Bing gets a video conferencing platform and 170 million Skype users to advertise to.
Testimonials from some business' own websites that are published in the h- review microformat are now surfacing on Place pages as reviews. Don't miss the opportunity to have your own structured reviews appear on your Place page(s)!
The latest version of Google Maps for Android added check-in capabilities and also made it a little easier to rate and review businesses from a mobile phone. (There are now over 300 million users of Maps for Mobile.)
A one box for travel search that links directly to official airline sites now appears for Flight+location-related searches on Google. This seems to be a way to introduce the idea to searchers of booking flights directly from the SERPs. Expect improvements and expansion of this concept as Google pushes the big travel consolidators, like Expedia and Orbitz aside with their own platform.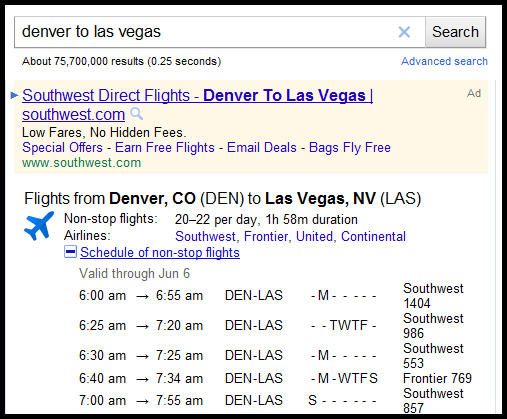 The introduction of Google Wallet is perhaps the biggest news in Local Search this month. The technology is based on NFC (near field communications), which allows mobile phone users to securely pay for things at brick and mortar locations via their cell phones. Citi Mastercard and several national retailers are already on board. Only one phone has this technology at the moment, but we can expect NFC enabled devices to skyrocket once Wallet is officially launched this summer. PayPal is suing Google and 2 ex-PayPal execs who defected to Google for stealing trade secrets related to Google Wallet.
There's been sea change at Adwords that I find disturbing because of its far ranging implications. Not long ago, Google introduced location extensions for AdWords. These extensions allowed local advertisers to display their address in their ads, which was good for both the business and searchers. Now, Google has announced it will be charging by the click whenever a searcher clicks on the directions links in those ads. While I can't argue with Google's reasoning that if someone clicks on directions they are "interacting" with your business, this is a huge change in the way pay-per-click advertising works and the interaction can be painfully minimal. Up until now, the advertiser was assured of a searcher going to their website or a landing page or making a phone call to them when they paid for a click. This is and has always been the differentiator between traditional and pay-per-click advertising - you only pay when a potential customer has been delivered to you.
Businesses now are expected to pay for someone simply looking at their location on a map and then possibly asking for directions from that screen.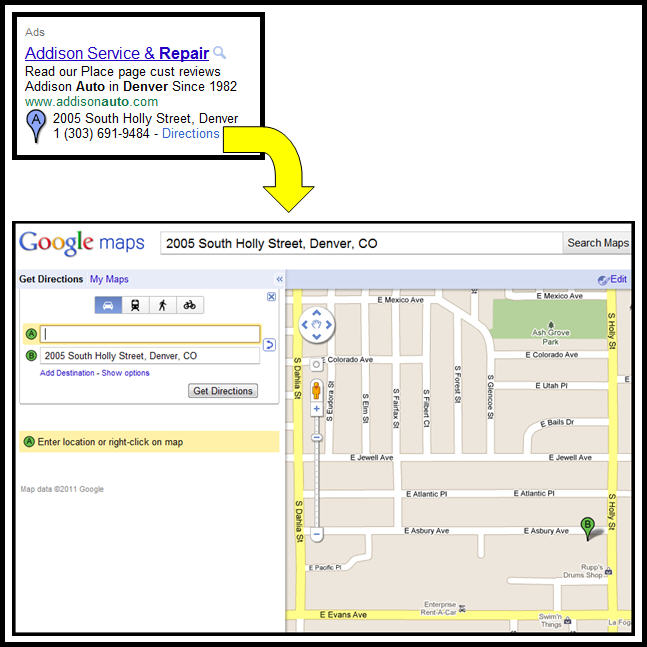 This is pretty minimal "interaction" in my opinion. It simply indicates that the searcher is curious to know where the business is physically located. It delivers nothing measurable to the advertiser and is a sad reversion to the old school print advertising mentality of newspapers, magazines and Yellow Pages. You may opt out of paying for directions clicks by removing your location extensions from your ads. So, Google gave local businesses something useful and now they are taking it away unless you agree to pay for sketchy clicks. This is Google greed pure and simple. Maybe it's a test to learn what we are willing to let them get away with. A massive opt-out of location extension usage and complaints to AdWords reps may bring Google to its senses. Spread the word!
---