What's New in Local Search November 2011
Google Analytics offers a paid option for businesses willing to pay more for guaranteed uptime and support and a dedicated account manager to provide consultation and auditing. Small business owners often complain that they would be willing to pay for Places support. This is an example that Google may, at some point, be willing to take their money for providing support, as well.
Improvement in support for Places users is proudly announced by Google. However, once you dig into it, it's not really much of an improvement at all. It's just another illusion of customer service, but it does improve slightly as the month rolls on.
Google updates the user interface of Maps, the Local SERPs sport some minor changes, 2 packs become more prominent and 3rd party review snippets reappear. Some directories, like Service Magic, appear in the blended local results with decent rankings. What is that about?
Google Places experiments with data crowdsourcing
(aka Community edits) again for things like map maker location, accurate website for business and appropriate photos. Considering Google's track record, the big question in everyone's mind is what safeguards are in place this time around to keep competitors/spammers from snarling up a business' data? In this example, a Google Place page prompts viewers to approve or disapprove location markers on a claimed listing: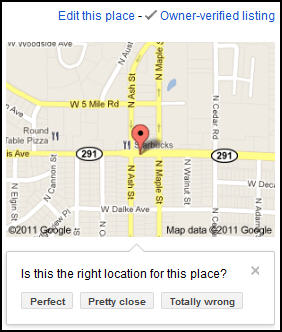 Google Offers expand to Miami. This city launch comes with an exclusive event at a participating restaurant only for Google Offers customers. This is an interesting change in how Google introduces Offers in a new place and may get businesses chomping at the bit to be the event host in their city because of all the free publicity it will get.
Google AdWords tells us it has improved the tools for location targeting, which is critical for good local search ROI in the PPCs. If you are in AdWords you'll see some new options worth experimenting with. Let us know how it goes for you.
Bing adds features to its Business Portal, including Virtual Punchcards, an online loyalty program that uses QR codes that the customer scans when they make a purchase at a physical location. It comes complete with supporting materials that can be printed out to advertize the program instore and instruct customers how to use it. Bing is picking up what Google started with QR codes and local businesses in a way that appears attractive to both biz owners and customers.
New Places bugs and glitches are continually reported throughout the month. Some are triggered simply by the act of going in to edit your listing.
Google files a patent application for enabling smartphone users to add and correct information on Places, including local businesses, directly from their phones while they are at the location they wish to update. There is also a crowdsourced review process involved. This will rapidly move community map edits to mobile devices, which makes a lot of sense when you think about mobile users making edits from their locations as they move around in the real world..
Places Quality Guidelines are updated to exclude ongoing events:
"You also can't create a Places listing for an ongoing service, class, or meeting at a location that you don't own or have the authority to represent. Please coordinate with your host to have your information displayed on their Place page as a custom attribute or within their Description field." Since these are events and not places, this is a good move and will keep a lot of stuff out of Places that doesn't really belong there.
Mike Blumenthal begins updating his Google Category Tool to include international categories and language combinations. SEO's outside the US will definitely appreciate this!
Google announces it will update Place pages if it finds what it feels is more current information on a business, even if the owner has claimed the listing. The updates may come from users or a trusted source. It was not immediately explained that the business owner would be emailed about "upcoming" changes and given a chance to approve or reject them, which caused quite a flurry in the local world. This may be Google's attempt to deal with old, neglected and duplicate listings, but no one really knows yet what good or bad may come from it. However, it's not hard to imagine how a single spammer could keep his/her competitors hopping by making user edits to their Place pages. Unfortunately, there are soon reports of Places listings being updated without any email notice to their owners.
Chicago now has its own Google community manager, Amy Ravit Koren, aka InteractiveAmy. Some of the things you might expect in Chicago soon: a flurry of reviews and ratings of local businesses, meetups, Mapups, Offers, telemarketing of AdWords Express, business photo shoots and a City Page. If I were in or near Chicago, I'd be following Amy on Twitter @GoogleChicago and attending Google events to stay on top of this.
Google Mapmaker opens up for Canada.
Google Offers announces its near-term expansion plan and launches in new cities. Expansion is likely being driven as much by the number of people who sign up to be notified when Offers are available to them as it is by business interest in participating. The Google Shopper app prominently features Offers, feeding into the growth, as well. Here are the cities where Offers are already available and those that should get them soon.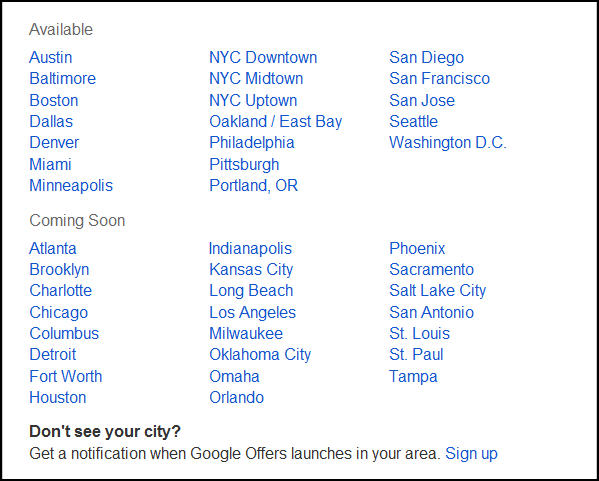 My Business Story is promoted as an easy way for local businesses to create videos to market their enterprise online. Google provides a video editing tool and co-sponsors this YouTube contest with American Express. Google will most certainly usemploy this user generated content across it's local properties. IMO, Local SEO's can easily turn this into a story suitable for their local media. Google says:
And since Google research has shown that companies who use video can expect better customer engagement and retention, we are launching a new video tool so that small business owners can create personalized, professional-quality videos about their business.
Nosh.com announces integration of its app with Google Places, highlighting the value of Places data and giving Google another field (along with Zagat) on which to do battle with Yelp.
Apple's natural language personal assistant, Siri, is born on the newest version of the iPhone. Most folks feel that Siri does a much better job of voice search than Google Voice, but are underwhelmed by the functionality of discovering detailed information about local businesses when using it.
The Getlisted.org tool now includes YellowPages.com data. You can now easily see if your business is included in that directory (and others) and if the data is correct. If it isn't, the tool walks you through the process of creating or updating your information.
MDG Advertising created an awesome infographic on Local Search that you may find helpful in your sales process. Check it out!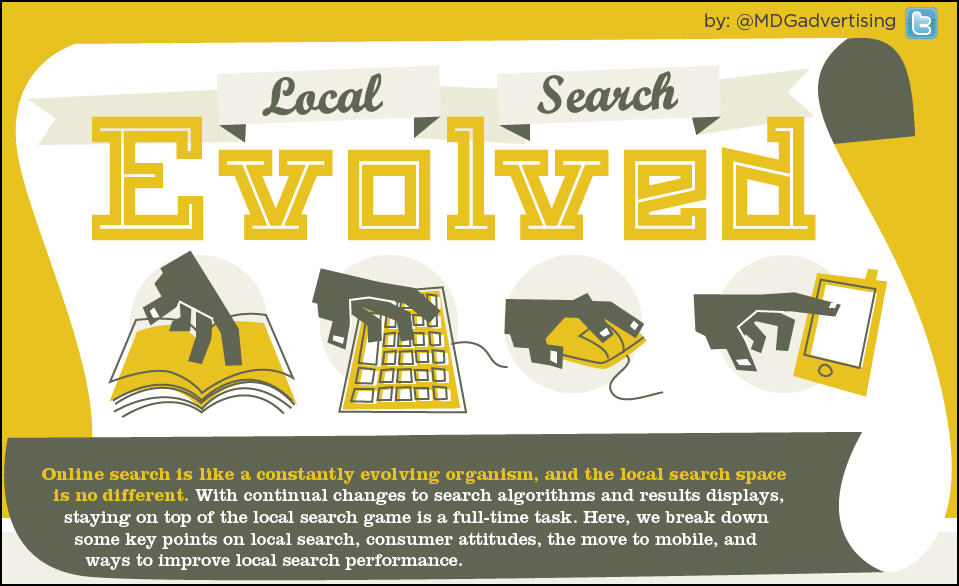 ---