What's New in Local Search October 2011
Place page owner descriptions went missing for a while. Now they're back, along with the Wikipedia descriptions that replaced the owner descriptions on some listings.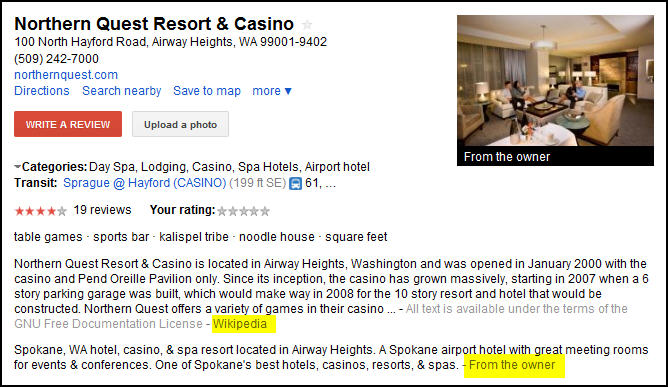 Are Wikipedia descriptions just being used as placeholders? I don't know, but a citation from Wikipedia is likely to be a strong trust signal, even if you can't include a link to your website. If it makes sense for your business to be included in Wikipedia in any way, I'd try to make it happen.
Google acquires Zagat, a well-respected reviewer of the hospitality industry world-wide. Local experts expect that Zagat descriptions may soon begin appearing on Place pages, along with snippets from their rich reviews. A reservation feature may appear, as well, similar to the hotel reservation options on Places pages and in the Search Results. Restaurant Place pages, in particular, could become richer by showing daily deals and offers, too. Google City Pages seem like a perfect match for Zagat. It'll be interesting to see what Google does with this acquisition.
Google (kind of) plugs up the whole allowing people to tag a business as closed on Places. It's a half-hearted effort in my opinion I'm not yet convinced how effect it will be. Later in the month, however, more progress is made as Google publishes this statement on it's LatLong Blog:
As promised, we've recently made a change to our process of displaying when a business has been reported to be closed on its place page. More specifically, we have removed the interim notification about a report having been made so that a listing will only be updated after it has been reviewed by Google and we believe the change to be accurate.
Google tells us they will send us email alerts about changes made to our Places listings:
Each time your listing is updated, you'll receive an email notification that a change will happen on your external business listing within the next 4 weeks. You won't be notified again when the change is published online.
This is a major change in the way Places has interacts with business owners and is a direct result of the high profile complaints about Google allowing changes to claimed listings by third parties.
Google puts up a page called Google Places for Business Questions and Ideas:
You told us you had questions, so let's hear 'em: Ask us about Google Places for business and vote up inquiries from fellow users — anything from questions about editing a Place page to ideas for new features. This page will be open for questions and voting for exactly two weeks. We'll try to respond to as many as we can, as best we can, during that time.

Please note: This is not a technical support page, and we will not be responding to issues you're having with your individual listing. Instead, please see our Help Center:

http://www.google.com/s­upport/places/
According to Google during the two week "you can talk to me now" period 574 people have submitted 233 ideas and cast 4,457 votes. Check out the responses from Google in the View Response area for each question. Only 2 of the top 10 most popular questions warranted a response. How Googley!
Sorry Google, but this is just another very lame attempt to give the appearance of providing customer service to small business owners using Google Places without really doing anything.
Google+ is opened to everyone and invitations are no longer needed to get on board.
Google Wallet finally arrives on a single Sprint phone. It comes as an app and includes a $10 Google Prepaid Card credit. I expected more from Wallet and I expected it to happen much faster.
Google Flight Search is launched in beta for a few cities. It's pretty basic. In fact it's not as good as what I can find almost everywhere else online. Another ho-hum.
Relevancy Ranking for Map-Related Search is the title of a new patent application filed by Apple. Its basis is a method of using crowd sourcing to return more relevant local search results in its iOS maps application through a location-popularity index. Sensitive to the privacy controversy i-Phones were embroiled in earlier this year, this method aims at gathering data anonymously and only from users who opt in.
Google Antitrust hearings are held in Congress. 13 years ago Microsoft was in the hot seat over monopolist practices, which eventually knocked it down quite a few notches. Ironically, at the time, Google was championed as the populist choice for leveling the playing field. The hearings are focusing on unfair competition in the shopping, travel and review spaces-all heavily dependent on local search results. Senator Richard Blumenthal stated: "You run the racetrack, you own the racetrack -- and for a long time you had no horses. Now, you have horses, and you have control over where the horses are placed, and your horses seem to be winning".  Eric Schmidt somewhat defiantly denied any wrong-doing, whatsoever.
Facts About Google and the Competition is published by Google. It's obviously devoted to defending Google's search dominance by trying to convince readers that it is only trying to serve consumers. It's tagline is "Serving our end users is at the heart of what we do and remains our number one priority". This graphic also appears there:

Google publishes A Guide to the Senate Judiciary Hearing to give its side of the arguments. Here's what it says about Google and small businesses:
When you hear, "Google is hurting small businesses", remember...
It's just not true. In fact, Google's search quality team has worked hard to develop algorithms that surface small and local business home pages (sometimes ahead of large review sites) when someone is searching for them.
We continually keep small businesses in mind when we test out new algorithms and evaluate possible improvements to the algorithms.
The biggest problem small businesses face is not being online in the first place (63% of small businesses don't have a website). Google is helping solve that problem through our "Getting America's Business Online" initiative.
Google's Austin City Page now has a toolbar Page Rank of 6! It's ranking at 13 organically for me for "recommended places in austin". Madison has a toolbar PR of 5, Portland and San Diego are at PR4 and the newest City Pages, Charlotte and San Francisco, don't have any….yet. Yowza!
Google's recently acquired TalkBin service is now fleshed out. Google says: "Subscribing to TalkBin is like buying a data plan for customer feedback." The cost? $25 per month per location.But it also says :"Your phone's standard text messaging and data rates may apply." , so it could end up costing a lot more. I'm not sure how well SMB's will get it, but it's worth a look here. If I were Google, I'd be figuring out a way to integrate the reviews and ratings that are made on TalkBin into Google+ reviews. However, that may not sit well with business owners unless they get some control over what is shown. After all, they are the ones paying for it.
Google Earth goes through update 6.1, making it a little easier to sort and search things in MyPlaces and making some improvements to Street View.
Local Search practitioners speculate that we can expect some major changes in Local at Google in October. Numerous bugs and glitches in Google Places are noticed and discussed throughout the month, which is usually a prelude to a big update and, over the past few years, Google has tended to make these types of updates in October. I expect these changes will be timed to the long-awaited release of Google+ business profiles.
---