What's New in Local Search? September 2011 Edition
What's New in Local Search September 2011?
Google's AdWords Express was officially released although it has been around since October 2010 under the name Boost. This addresses the need of small businesses to get ppc ads online quickly and easily without having to learn how to use the increasingly complicated AdWords interface. I've experimented with these. The numbers are nowhere near as good as those from professionally managed accounts. However, their profitability doesn't need to support the cost of professional management, either.
The newest version of Maps for Android enables you to upload photos to Place pages, add new Places as you check in to them on Google+ and quickly toggle to My Places on your Android phone.
Google hosted numerous events in NYC, including one promoting Google Places to the city's Arts community. At the same time, community-building in the form of deals and events appears to be going strong in Manhattan according to the Facebook and Twitter activity .
Google City Pages used to have URLs like this: http://www.google.com/austin/ and this:
http://www.google.com/portland. Now those URLs redirect to:
http://www.google.com/city/austin/
and http://www.google.com/city/portland
There is now a main city page at http://www.google.com/city/ linking to all the individual portal pages and two new cities, Charlotte and San Francisco, have their own pages now. What is this URL structure setting things up for? URLs like http://www.google.com/hotels/portland? OR http://www.google.com/portland/hotels?
Google Place Pages continue to morph with features like owner descriptions and more details disappearing with no real explanation from Google. Many updates made to pages are in limbo. The general feeling is that stuff breaks-sometimes badly-as new UIs are introduced, new factors are folded into the ranking algorithms and Places updates are pushed out. We get some clues from Google that for some of the features on Place pages, the update cycle could be as long as 6 weeks!
A blurb from Wikipedia replaces the owner descriptions on the Place pages of some businesses. This is crazy, but encourages us to try harder to get a Wikipedia entry approved for our businesses. Figuring out how to spin it is going to be hard for many enterprises. What can you say about a plumber or carpet cleaner in Wikipedia?
Owner descriptions begin reappearing on some, but not all Place pages.
Google pushes for more use of its Map Maker by promoting a wiki-type guide to facilitate knowledge about how to use it. Again, Google expects the community to provide support for their products. What a racket!
Some AdWords Express advertisers find that using it causes their natural listings to disappear from the 7 pack. Is it really just a coincidence?
Google releases a browser plugin that allows the user to see more information about the businesses of the websites they visit, such as reviews and related enterprises.
We see one box local results, instead of 7 packs, appear for all kinds of fat head terms in the search results. Some are simply bizarre: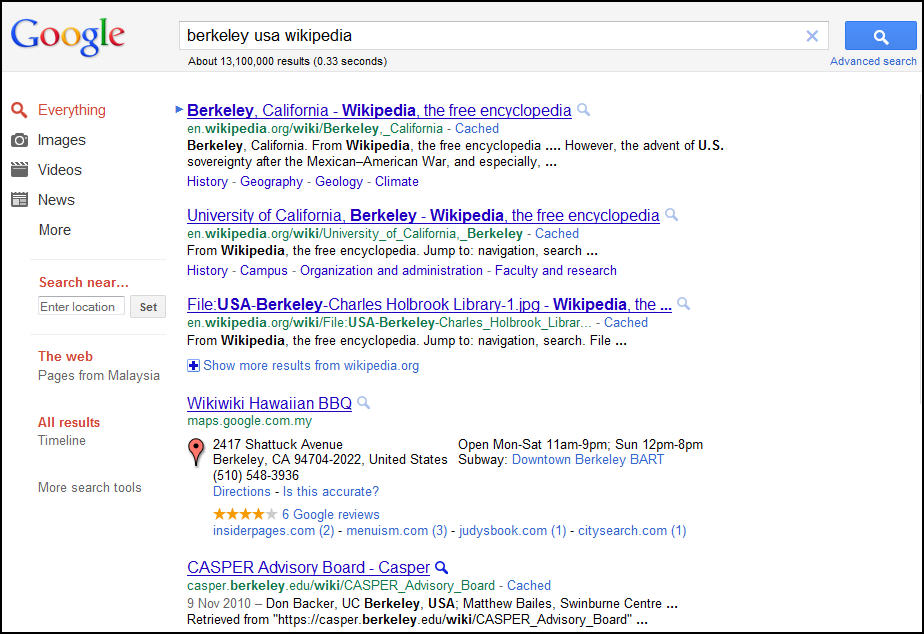 Then, the 7 packs return. Oops they're gone again. Oh now they're back….
Click to call functionality will be enabled for all phone numbers appearing in AdWords ads. Previously, you had to use call extensions to use this feature. The reporting for calls resulting directly from AdWords is also improved.
Google hosts a MapUp (Mapmaker and Places) event in their favorite test city, Portland. Expect more of these if it does what Google wants it to do. I expect what they want it to do is get users to put local businesses on the map for them and correct/update existing locations.
A bunch of new domains registered by Google are spotted by Mike Blumenthal that indicate it may be launching a wide-reaching campaign aimed at small business owners and based on their Get Your Business Online Texas and Vermont events.
Yelp appears to be out of favor yet again with Google and their link no longer shows in the blended local listings. At about the same time, the link text in Maps results changed from Reviews to Google Reviews.


Learn with Google is introduced. Google describes it as "…a new educational site designed to be a one-stop shop for businesses to learn about Google products and services…" This is obviously an attempt to provide additional info for all the small businesses Google is trying to lure online to use their products. It's interesting to note that nearly all of the lessons in the Marketing a Business Online section are about using paid advertising.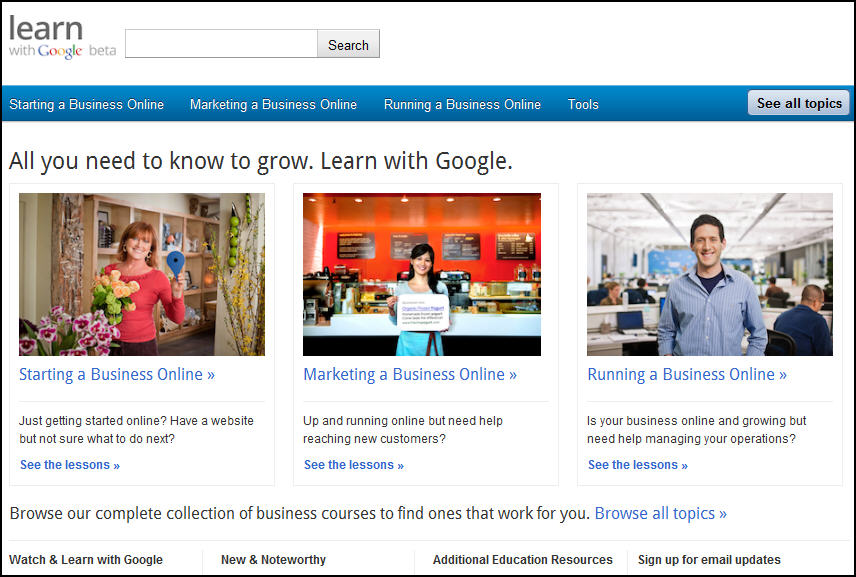 ---