Why Your Brand Should Consider Creating A Facebook Timeline App
For digital marketers, the news that Facebook's Timeline for Pages has arrived is old. Yet leveraging the new look and features of Timeline as part of a Facebook marketing strategy is still, in many respects, uncharted digital territory.
Aside from a new, more visual layout and the elimination of custom landing pages, Timeline offers a deeper, more narrative experience that, when used correctly, can help brands not only tell their stories in a more meaningful way, but provide a more detailed layer of interaction with an audience.
And Timeline apps are a critical part of that experience. Facebook recently announced a slew of apps designed to bring a new level of transparency to Facebook sharing. Instead of merely liking an update, a product or a photo, these new social apps allow users to share what they're eating, wearing, seeing and wanting.
This sort of social experience is quickly catching on. During the initial announcement, Facebook introduced more than 60 apps. In just weeks, that number has shot up to over 3,000. Brands ranging from Pinterest and Path to Nike and Netflix have all created custom apps that users can add to their Facebook profiles.
The ability for brands to create these new, custom apps comes courtesy of Open Graph, what Facebook calls "an extension of the social graph to include third party web sites and pages that people liked throughout the web. We are now extending the Open Graph to include arbitrary actions and objects created by 3rd party apps and enabling these apps to integrate deeply into the Facebook experience."
These apps represent a huge opportunity not just for individual brands, but for Facebook, too. Facebook's developers are creating a site that is more intuitive. Based on what you've shared in the past, Facebook's algorithm will determine placement of that activity on your profile page. If you have brand advocates on Facebook that are frequently interacting with your app and content, then that activity will feature more prominently on their profiles, introducing your brand to their network of Facebook friends.
Timeline apps also have positive potential as referral engines. Companies like Pinterest and Foodspotting.com have reported a large spike in traffic from Facebook, as well as an increased number of sign-ups. And that's an important result. After all, few brands use Facebook for their sole presence. Instead, Facebook is used in conjunction with other social networks to reach a larger audience and help drive traffic back to the company's website, which serves as the hub of the brand's online operations.
"We're now seeing new content discovery and increases in traffic and engagement happening more broadly for companies of all sizes," as written on Facebook's developer blog. "Open Graph has driven a lot of discovery and growth, allowing many companies to double the size of their user base in weeks."
Should you opt to create an Open Graph app for your brand, Timeline for Pages allows you to include the app thumbnail in the top info bar of your page, as pictured below on Macy's Timeline.
Each brand has the ability to feature three apps (and photos, which can't be moved from the default placement). That way, you can prominently feature your custom app as one of the primary elements of your Timeline. And once a user clicks on the app thumbnail, the app appears on the screen, along with a comment stream that allows users to converse about the app.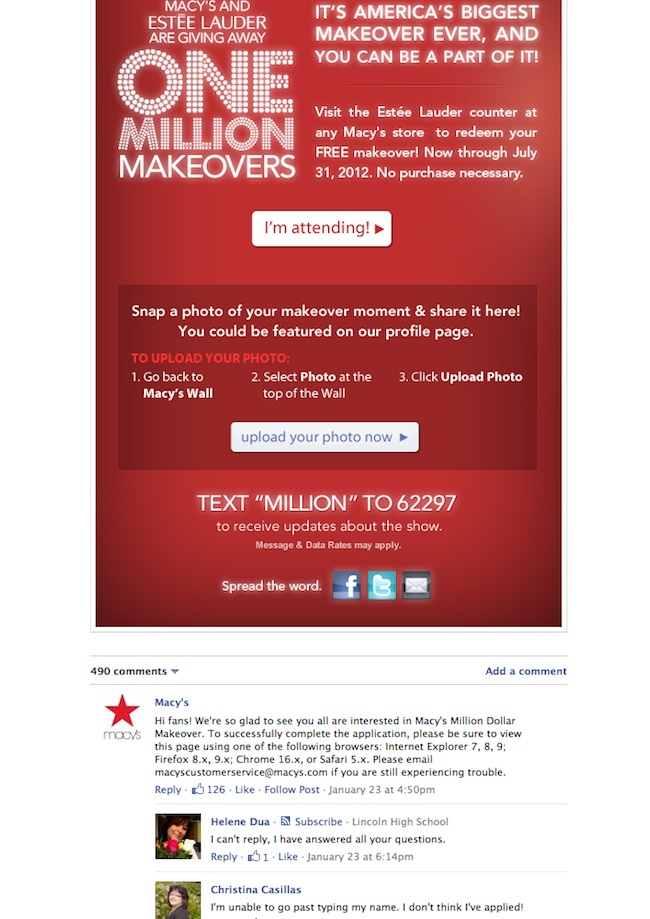 Now that the wheels are turning and you have app ideas filling your head, why not dive in? Facebook offers a step-by-step Open Graph tutorial, if you're feeling brave. Otherwise, I'd recommend contacting a developer to help you navigate the process.
Of course, you can't create an app as quickly as you can build a photo album or post content. Yet if an Open Graph app fits your brand or business, it's certainly worth considering to not only take advantage of new Timeline functionality, but also to give your brand an additional way to leverage your Facebook presence as a referral engine to your website.
Does your company have plans to create an Open Graph app? Or are you a few steps behind and still deciding on a Timeline cover photo? No matter where you are in the process, I'd love to hear about your experience.
---