15 Must-Ask Questions to Avoid Getting a Client From HELL

15 Must-Ask Questions to Avoid Getting a Client From HELL
—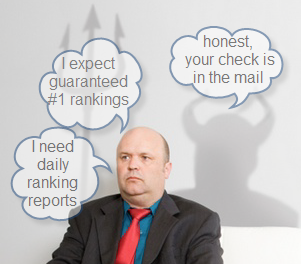 Given enough time, every marketing professional experiences at least one "difficult" client. In the end we learn the stress, tension, waste of time and loss of critical resources were just not worth the trouble! Sometimes it leads to a messy client firing. Admittedly, we've had to fire clients on occasion. Perhaps you have too. But could the firings have been avoided?
Professional SEO consultants and agencies are wise to use some kind of initial interview form or client kickstart plan during that all-important first-contact meeting. Mind you, we aren't advocating a one-size-fits-all approach — especially in light of the complexities of link building, social media, PPC strategy, reputation management, and client intake procedures. And we've come to terms with the fact that some clients just aren't going to be a fit for our SEO services. Our goal is to acquire long-term clients who are not only profitable but also appreciative of all our hard work — while avoiding that occasional person with potential to become the client from hell.
So how do we do this?
By asking the right questions!
This is the only way to accurately assess and pre-qualify your prospective SEO clients. And, since we've been enjoying a large measure of success with our own interview system, we've decided to share our methodology which consists of 15 Critical Questions that every SEO should be asking during an initial client meeting.

Question #1: ...