Are you link building with sponsored Wordpress themes? Don't.

Are you link building with sponsored Wordpress themes? Don't.
I

was approached by an SEO firm that wants to do link building on my site by using embedded links in custom Wordpress themes they would design. Apparently these links would be footer links that look like a design credit on the theme itself. They would then submit these themes to various download sites and promote them. Is this a valid technique? Is this something I should be doing?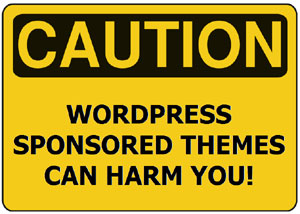 Answer: You are right to be concerned. As you stated in your question, a sponsored theme is a custom Wordpress theme that is designed for you and given away for free with the understanding that any embedded footer links in the theme stay intact when republished.
This practice was very popular until around 2007 when it became abused by casino, porn and pill-related websites that started to make up a majority of the footer links in these sponsored themes. That's still the case. In fact, there are tons of forum threads devoted to the selling of these designer and sponsor links to virtually any site willing to pay a nominal fee.
Unfortunately, we don't consider this a high-quality link building method. Not only do we feel that sponsored themes are ripe for abuse but more importantly, Google doesn't like them.
Google's main issue with sponsored themes is that they violate the concept of TrustRank. The concept of TrustRank states that links should be evaluated from a non-commercial standpoint and not be viewed as a way to manipulate organic rankings by their design.
Basically, if you continue to link from or to untrustworthy places on the Internet your TrustRank goes down. The commercial nature of sponsored Wordpress themes lowers the overall TrustRank of the sites using them and diminishes the value of these sponsored links.
This TrustRank opinion...