Dramatically Increase Your Search Engine Exposure with Google Merchant

Your Step by Step Guide to Dramatically Increasing Your Search Engine Exposure with Google Merchant
Introducing Google Local Shopping for Place Pages!

It's been years since Google first introduced Universal Search, which blends images, videos, maps, Place Pages, news stories and product listings into Google's integrated search results. Since then, marketers have been busy creating and optimizing content in all of these different formats to gain the advantage.
Mostly the focus has been on placing alt tags, image file name optimization, Place Page optimization, publishing videos on YouTube, and possibly optimizing your blog for Google News. Surprisingly, one of the best opportunities got lost in the shuffle...Google Product Search.
Google Product search (formerly Froogle) is a collection of product data feeds submitted by retailers that Google indexes and makes available both on the Google Product Search Engine and in the regular search results. You will typically see products in Google's SERPS only when a user's search query clearly signals buying intent - such as the example below of a search for GoPro Video Camera.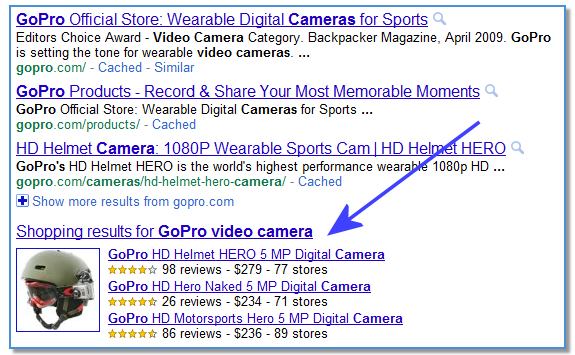 Note that a search for some products without keywords that signal buy...